August 25, 2015
Tinzaparin Non-Superior to Warfarin for Recurrent VTE in Cancer
This article originally appeared
here.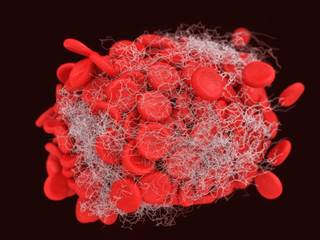 No difference in major bleeding or overall mortality with tinzaparin, but reduction in clinically relevant nonmajor bleeding.
(HealthDay News) -- For patients with active cancer and acute symptomatic venous thromboembolism (VTE), full-dose tinzaparin does not reduce recurrent VTE compared with warfarin, according to a study published in the Journal of the American Medical Association.
Agnes Y.Y. Lee, M.D., from the University of British Columbia in Vancouver, Canada, and colleagues examined the efficacy and safety of tinzaparin versus warfarin for treatment of acute, symptomatic VTE in adult patients with active cancer. Nine hundred patients were randomized to receive tinzaparin (175 IU/kg) once daily for 6 months or conventional therapy with tinzaparin (175 IU/kg) for 5 to 10 days followed by warfarin for 6 months.
The researchers found that recurrent VTE occurred in 7.2% of the 449 patients treated with tinzaparin versus 10.5% of the 451 patients treated with warfarin (hazard ratio [HR], 0.65; 95% confidence interval [CI], 0.41 to 1.03; P = 0.07). No differences were seen in major bleeding (HR, 0.89; 95% CI, 0.40 to 1.99; P = 0.77) or overall mortality (HR, 1.08; 95% CI, 0.85 to 1.36; P = 0.54). Tinzaparin was associated with a significant reduction in clinically relevant nonmajor bleeding (HR, 0.58; 95% CI, 0.40 to 0.84; P = 0.004).
"Further studies are needed to assess whether the efficacy outcomes would be different in patients at higher risk of recurrent VTE," the authors write.
Several authors disclosed financial ties to biopharmaceutical companies, including LEO Pharma, which manufactures tinzaparin and funded the study.
Source