April 30, 2018
Spermatogenesis Still Occurs in Men With Testicular Cancer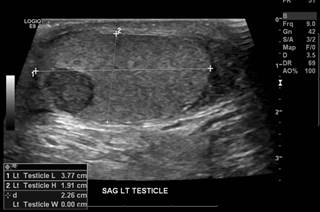 Spermatogenesis often occurs away from tumor; findings may aid fertility planning, sperm retrieval.
(HealthDay News) -- Spermatogenesis occurs in most men with testicular cancer, often away from tumors, according to a study published online in BJU International.
Jemma A. Moody, from King's College London, and colleagues retrospectively reviewed 103 testicular germ cell tumors (TGCTs) in men who underwent radical orchidectomy (between 2011 and 2015) in order to assess the frequency and predictors of spermatogenesis.
The researchers found that spermatogenesis was present in 70% of the patients. Spermatogenesis was widespread in 63% of these patients and focal in 38%. Tumor type, stage, presence of microcalcification, and tumor markers did not predict spermatogenesis. Spermatogenesis was 82% less likely among men with a percentage testis tumor occupation of >50% of their testis versus those with a percentage testis tumor occupation of <50%.
"These findings can help predict and guide successful surgical sperm retrieval in testes with TGCTs," the authors write. "The finding of focal spermatogenesis in a third of patients would support a microsurgical approach to sperm retrieval at the time of orchidectomy to maximize success."
Reference
Moody JA, Ahmed K, Horsfield C, Pedersen MRV, Yap T, and Shabbir M. Fertility preservation in testicular cancer – predictors of spermatogenesis. BJU Int. DOI:10.1111/bju.14214 (Published online April 17, 2018)