August 22, 2017
Urologist Ownership of IMRT Linked to Its Greater Use for PCa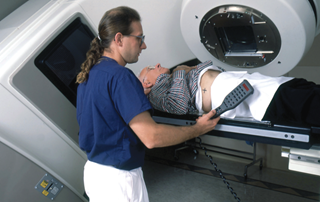 Patients are more likely to receive intensity-modulated radiation therapy if they are managed by urology practices with an ownership interest in the modality, study finds.
Men with newly diagnosed prostate cancer are significantly more likely to receive intensity-modulated radiation therapy (IMRT) if their care is managed in a single-specialty urology practice that has an ownership interest in a facility that offers IMRT, according to a new study.
Brent K. Hollenbeck, MD, of the Dow Division for Health Services Research in the Department of Urology at the University of Michigan in Ann Arbor, and collaborators retrospectively analyzed data from a cohort of Medicare beneficiaries with PCa diagnosed between 2010 and 2012. The proportion of patients who underwent IMRT was 43% among men managed in a urology practice with an IMRT ownership compared with 30% among those managed in a practice without such ownership, regardless of practice size, the researchers reported online in European Urology.
In addition, among patients at very high risk of death from causes other than cancer within 10 years of diagnosis, IMRT use and overall treatment were significantly more likely among those treated by practices with than without IMRT ownership (42% vs 26% and 53% vs 44%, respectively).
"Our findings are consistent with previous research suggesting that physicians are most responsive to financial incentives in clinical settings where treatment benefit is uncertain as opposed to circumstances where it is clear-cut," Dr Hollenbeck's team wrote. "In this context, the greatest gap in use of curative treatment among IMRT owners versus nonowners occurred in the patients with the highest risk of noncancer mortality, where treatment benefit is least certain."
The authors noted that their study has implications for practicing clinicians. "Referring physicians should carefully consider the practice structure of the urology group to which they send their patients, as this is likely to importantly influence how their patients are managed."
Although their study design prevented them from establishing a causal link between ownership and utilization, the researchers noted that "prior longitudinal studies on the topic and strong relationships between ownership and utilization in other contexts support that possibility."
Reference
Hollenbeck BK, Kaufman SR, Yan P, et al. Urology practice affiliation and intensity-modulated radiation therapy for prostate cancer in the elderly. Eur Urol 2017; published online ahead of print. doi: 10.1016/j.eururo.2017.08.001