December 10, 2015
MRI Predicts Prostate Cancer Death Risk After Prostatectomy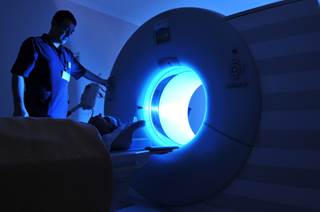 MRI Highly Accurate in Detecting Significant Prostate Cancer
Preoperative magnetic resonance imaging (MRI) may be useful in predicting prostate cancer-specific mortality (PCSM) after radical prostatectomy (RP), according to Korean researchers.
Sungmin Woo, MD, and colleagues at the Seoul National University studied 318 patients who underwent MRI followed by RP. After a median follow-up of 104 months, 11 patients (3.5%) died from prostate cancer.
Of the 318 patients, 104 (32.7%) had clinically significant cancer on MRI. These patients had 5- and 10-year PCSM rates of 8% and 14.2%, respectively, whereas patients without clinical significant cancer had rates of 0% and 0.5%, respectively, the investigators reported online in Acta Radiologica. In multivariate analysis, clinically significant cancer on MRI was associated with an 11-fold increased risk of PCSM.