February 13, 2015
Black Men with Prostate Cancer Fare Worse
the Renal and Urology News take:
African American men have higher risks of prostate cancer and twice the odds of dying from it, according to Durado Brooks, MD, of the American Cancer Society (ACS). Black men also tend to be diagnosed at younger ages and to have high-grade disease. Dr. Brooks highlighted the problem in an interview with Public Radio International and a separate article for ACS.
Researchers have yet to determine all of the causes. Socioeconomic disparities likely play a role, however. In studies involving the military, which provides equal access to health services, the racial divide in prostate cancer deaths shrank – but did not disappear entirely.
Lack of health insurance or access to care would prevent black men from getting timely screening and treatment. Black men may also steer clear of the doctor's office due to fears over the digital rectal exam or of cancer itself. Black men are also underrepresented in studies informing screening and treatment guidelines.
Educating black patients seems key. Clinicians should discuss the pros, cons, and uncertainties of prostate cancer screening and treatment with their patients, according to Dr. Brooks. The ACS recommends starting the conversation with black men at age 45.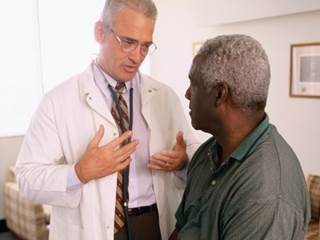 Men of West African origin around the globe have higher rates of prostate cancer.
Black men are more than twice as likely as their white counterparts to die from prostate cancer. It's the kind of survival gap we've seen before. Such black-white survival divides are also common for women with breast cancer.
"One of our challenges is we don't really understand the biological underpinnings of the higher rates that we see in black men," says Dr. Durado Brooks, director of Prostate and Colorectal Cancers for the American Cancer Society. "This is not just African American men, but men of West African origin around the globe have higher rates of prostate cancer and are more likely to die of the cancer."
This article originally appeared
here.
Sign up for free e-Newsletters
NEPHROLOGY & UROLOGY NEWS