January 02, 2017
Health Care Provider Burnout Linked to Worse Patient Care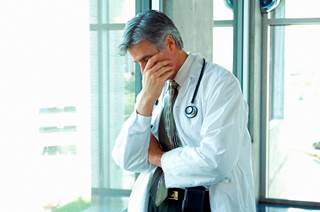 Greater burnout among healthcare providers was associated with poorer-quality healthcare and reduced safety for patients.
HealthDay News — Health care provider burnout is negatively associated with quality and safety of health care, according to a meta-analysis published recently in the Journal of General Internal Medicine.
Michelle P. Salyers, PhD, from Indiana University-Purdue University Indianapolis, and colleagues conducted a meta-analysis to examine the correlations between provider burnout (emotional exhaustion, depersonalization, and reduced personal accomplishment) and quality (perceived quality and patient satisfaction) and safety of health care. Data were included from 82 studies with 210,669 health care providers.
The researchers observed a significant negative correlation between burnout and quality and safety (r = −0.26 and −0.23, respectively), implying that greater burnout is associated with worse quality health care and decreased patient safety. For the quality relationship, moderators included dimension of burnout, unit of analysis, and quality data source. For the relationship between burnout and safety, moderators included safety indicator type, population, and country.
"Provider burnout shows consistent negative relationships with perceived quality (including patient satisfaction), quality indicators, and perceptions of safety," the authors write. "Though the effects are small to medium, findings highlight the importance of effective burnout interventions for health care providers."
Reference
Salyers MP, Bonfils KA, Luther L, et al. The Relationship Between Professional Burnout and Quality and Safety in Healthcare: A Meta-Analysis. J Gen Intern Med. 2016 Oct 26. DOI: 10.1007/s11606-016-3886-9