November 04, 2017
Rapid Correction of Inpatient Hyponatremia Can Occur Frequently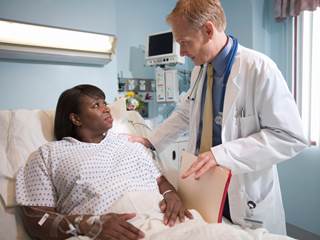 Study documents occurrence of rapid correction in 44.3% of hospitalized patients.
The following article is part of conference coverage from Kidney Week 2017 in New Orleans hosted by the American Society of Nephrology. Renal & Urology News staff will be reporting live on medical studies conducted by nephrologists and other specialists who are tops in their field in acute kidney injury, chronic kidney disease, dialysis, transplantation, and more. Check back for the latest news from Kidney Week 2017.
NEW ORLEANS—Rapid correction of severe hyponatremia can occur frequently among inpatients and result in serious neurologic consequences, researchers reported at Kidney Week 2017.
Jason C. George, DO, and colleagues at the Geisinger Medical Center in Danville, Pennsylvania, identified 1676 patients who had serum sodium levels below 120 mEq/L at hospital presentation from January 2001 to February 22, 2017. They defined rapid correction as a greater than 10 and greater than 18 mEq/L increase in serum sodium within 24 or 48 hours, respectively.
Rapid correction occurred in 742 (44.3%) patients; it occurred in 519 and 225 patients within 24 and 48 hours, respectively. On multivariate analysis, female gender, serum potassium level greater than 5 mEq/L on presentation, intravenous or oral electrolyte repletion during admission were associated with an increased likelihood of rapid correction with 24 hours of admission, Dr George and his collaborators reported. Treatment with hypertonic saline, serum potassium level greater than 5 mEq/L, electrolyte repletion, and oral tolvaptan use was associated with rapid correction within 48 hours of admission.
In addition, rapid correction within 24 or 48 hours was less likely among with higher Charlson comorbidity scores treated at an academic medical center, according to the investigators. Rapid correction within 24 hours was less likely to occur among older patients or those with baseline serum sodium levels below 135 mEq/L. Rapid correction within 48 hours was less likely among patients who require admission to an intensive care unit.
Among the 357 patients who had magnetic resonance imaging of the brain, 10 had radiologic evidence of central pontine myelinolysis/osmotic demyelination syndrome (CPM/ODS). Seven of these patients had documented rapid correction. Hypokalemia (serum potassium level below 3.5 mEq/L) was significantly associated with the incidence of CPM/ODS.
Visit Renal & Urology News' conference section for continuous coverage from Kidney Week 2017.
Reference
George JC, Zafar W, Bucaloiu ID, Chang A. Risk factors and outcomes of rapid correction of severe hyponatremia. Data presented in poster format at Kidney Week 2017 in New Orleans. Abstract TH-PO1114.