August 06, 2016
Active Surveillance Possible Before Treatment in mRCC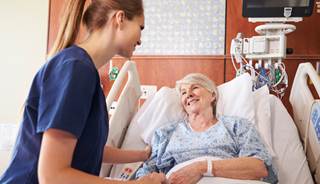 Some metastatic RCC patients may safely undergo surveillance prior to starting systematic therapy.
HealthDay News — For certain patients with metastatic renal cell carcinoma, active surveillance is feasible before starting systemic therapy, according to a study published online August 3 in The Lancet Oncology.
Brian I. Rini, MD, from the Cleveland Clinic Taussig Cancer Institute, and colleagues conducted a prospective phase 2 trial involving 52 patients with treatment-naive, asymptomatic, metastatic renal cell carcinoma from 5 hospitals. Patients underwent radiographic assessment at baseline and during median follow-up of 38.1 months. Patients continued on observation until systemic therapy initiation for metastatic renal cell carcinoma.
Forty-eight patients were included in the analysis, with a median time on surveillance from study registration to systemic therapy initiation of 14.9 months. The researchers found that higher numbers of International Metastatic Database Consortium adverse risk factors and higher numbers of metastatic disease sites correlated with a shorter surveillance period (P=.0403 and .0414, respectively), in multivariate analysis. During the study period, 46% of patients died, all from metastatic renal cell carcinoma.
"A subset of patients with metastatic renal cell carcinoma can safely undergo surveillance before starting systemic therapy," the authors write. "Additional investigation is required to further define the benefits and risks of this approach."
One author disclosed financial ties to Pfizer and GlaxoSmithKline.
Source
Rini BI, Dorff TB, Elson P, et al. Active surveillance in metastatic renal-cell carcinoma: a prospective, phase 2 trial. Lancet Oncol. 2016; doi: 10.1016.S1470-2045(16)30196-6
Russo P. Delayed systemic treatment in metastatic renal-cell carcinoma. Lancet Oncol. 2016; doi: 10.1016/S1470-2045(16)30247-9