August 31, 2018
Prazosin May Lower Prostate Cancer Recurrence Risk After Radiotherapy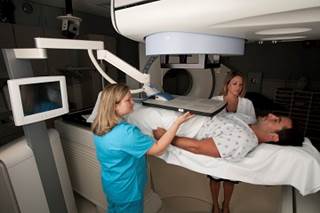 In a study, men undergoing radiotherapy for prostate cancer who received prazosin to manage LUTS had a lower biochemical recurrence rate than those treated with tamsulosin or no alpha blocker.
PHILADELPHIA—Prazosin, an alpha-blocker commonly used to manage acute lower urinary tract symptoms (LUTS) among men receiving radiation therapy for prostate cancer (PCa), may decrease the likelihood of recurrent cancer, according to new study findings presented at the International Continence Society's 2018 annual meeting.
Australian researchers led by Shailendra Anoopkumar-Dukie, PhD, of the School of Pharmacy & Pharmacology, Griffith University in Southport, Queensland, based those findings on a retrospective study of 303 men who had received PCa radiotherapy from 1998 to 2017. In that study, 147 men received prazosin, a quinazoline alpha-blocker and 72 received tamsulosin, a non-quinazoline alpha-blocker, to treat LUTS. Another 84 men naïve to treatment with alpha-blockers served as controls.
The 2- and 5-year rates of biochemical relapse were significantly lower among prazosin-treated patients (2.7% and 8.8%, respectively) compared with tamsulosin recipients (15.2% and 25%) and controls (22.6% and 34.5%), Dr Anoopkumar-Dukie's team reported in a poster presentation. Prazosin-treated patients had a 3.9 times lower relative risk of biochemical relapse compared with controls.
In addition, men treated with prazosin had a significant lower PSA velocity compared with tamsulosin recipients and controls (0.306 vs 3.363 and 2.980 ng/mL/year, respectively).
"To our knowledge, this is the first study to provide an argument for the use [of] prazosin in the treatment of prostate cancer as an adjunct treatment option," Dr Anoopkumar-Dukie and colleagues concluded.
The authors noted that alpha-blockers are commonly used to manage acute lower urinary tract symptoms among men receiving radiotherapy for localized PCa. Some evidence shows that some alpha-blockers, such as prazosin, decrease PCa incidence and increase apoptosis in the prostate. In vitro studies have demonstrated cytotoxic actions of quinazoline alpha-blockers in PCa cell lines, they wrote. These cytotoxic effects are not found with tamsulosin.
Reference
Hart J, Spencer B, McDermott C, et al. Prazosin used to manage LUTS in men with prostate cancer reduces risk of biochemical relapse following radiotherapy. Data presented at the International Continence Society's 2018 annual meeting in Philadelphia, August 23–31. Abstract 527.