Ask the Experts – Veda N Giri
Genetic Testing for Hereditary Prostate Cancer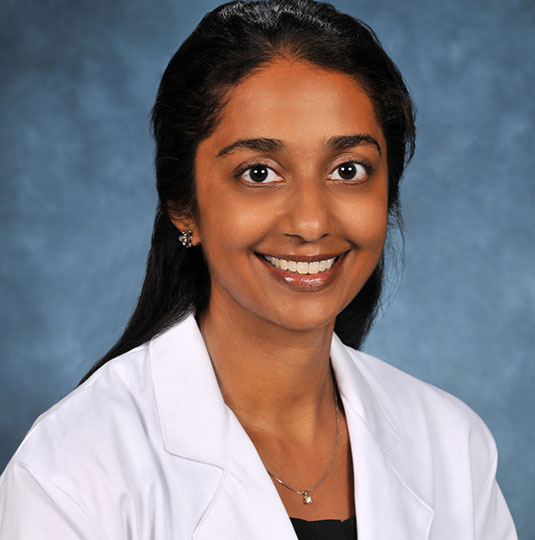 Veda N. Giri, MD

Practice Community: Philadelphia, Pennsylvania
Hospital and Institutional Affiliations: Associate Professor, Medical Oncology, Cancer Biology, and Urology; Director, Cancer Risk Assessment and Clinical Cancer Genetics, Sidney Kimmel Cancer Center, Thomas Jefferson University, Philadelphia
Number of Patients Seen in a Week: 5 men for genetic testing and assessment

Practice Niche: Cancer Genetics and Testing
Question 1. Where are we in the science of genetic testing for hereditary prostate cancer?
Answer
Multiple genes have been identified that provide variable estimates of risk for inherited prostate cancer. The genes with the strongest level of risk for prostate cancer include BRCA2, BRCA1, and HOXB13. Other genes with more modest risk are the DNA mismatch repair genes. There are also genes that can give insights into risk for aggressive prostate cancer, such as BRCA2. The highest rates of inherited mutations are in men with metastatic disease, where up to 12% of men may carry inherited mutations predominantly in DNA repair genes. Genetic testing is now available through multiple commercial labs that offer the ability to test several genes at a time for men interested in genetic testing.

For hereditary cancer testing, such as for hereditary prostate cancer, it is really important to choose a lab that has long-standing experience with clinical genetic testing, reliable variant reclassification program, robust molecular approaches to classify genetic variants, and contributes their data to public databases such as ClinVar. Currently, there are approximately 5 clinical genetic labs that may be used for genetic testing for men with prostate cancer that have long-standing experience with clinical germline genetic testing. It is important to speak to a genetics professional who has experience with ordering genetic tests and working with genetic testing labs to ensure high quality genetic testing.
Question 2. What are the key questions that clinicians need to ask men when selecting them for testing?
Answer
What is your family history of cancer, on your mother's side and father's side? What is your Gleason score (if the man has had a diagnosis of prostate cancer), and do you know the Gleason score for any male relatives with prostate cancer? What stage is your prostate cancer? What was your age at the diagnosis of cancer? If applicable, what was the age of family members when they were diagnosed with cancer? Do you have Ashkenazi Jewish ancestry?
Question 3. Should genetic testing be offered to all men who have a family history of prostate cancer or any cancer?
Answer
That depends on the details of the family history. Current NCCN [National Comprehensive Cancer Network] guidelines state to offer genetic testing to men who have a brother, father, or multiple male relatives diagnosed with prostate cancer when they were younger than 60 years, or a family history suggestive of hereditary breast and ovarian cancer or Lynch syndrome. Our research team has reported that breast cancer family history is a strong predictor of prostate cancer risk and increased risk for carrying an inherited mutation in DNA repair genes.

Current NCCN guidelines state that the following men consider genetic testing: Men with metastatic prostate cancer regardless of family history; men with high-risk to regional disease regardless of family history; men with very low-to-unfavorable intermediate-risk disease with a brother, father, or multiple male relatives diagnosed with prostate cancer before age 60; a family history of 1 or more blood relatives with ovarian, pancreatic, metastatic prostate cancer, or breast cancer diagnosed before age 50; a family history of 2 or more blood relatives with breast, ovarian, pancreatic, colorectal, endometrial, gastric, small bowel, UTUC [upper tract urothelial carcinoma], or bile duct cancer; men with Ashkenazi Jewish ancestry and Gleason score of 7 or higher; and BRCA mutations in tumor profiling. These guidelines are updated periodically and, therefore, they may change over time.
Question 4. During patient counseling, what aspects of testing must patients understand clearly?
Answer
There are many aspects to genetic testing to understand before proceeding with genetic testing, including cancer inheritance, benefits/risks/limitations of genetic testing, types of test results to expect, implications of test results for men and their families, additional cancer risks that may be identified, genetic discrimination laws, and reproductive implications. After testing, men need to understand their results in order to follow recommendations appropriately and communicate information to their providers and family members.
Question 5. Could genetic test results be helpful in therapeutic decision making?
Answer
Genetic testing is now increasingly informing therapeutic options for men with metastatic castration-resistant prostate cancer. PARP inhibitors such as olaparib and rucaparib have been given "breakthrough therapy" designation by the FDA to be used in men with metastatic castration-resistant prostate cancer who have specific germline mutations and/or after progression on specific lines of therapy. Clinical trials based on germline genetic testing are also increasing. In the early-stage setting, genetic testing may increasingly inform discussions of active surveillance.
Question 6. What are the drawbacks of genetic testing?
Answer
Genetic testing may not always provide concrete answers as to why a man or his relatives developed cancer. Even if the result does not show a mutation, there may be elevated risk for cancer based on family history. And population-level risk for cancer remains. The interpretation of test results can also be unclear. For example, about a third of men undergoing genetic testing may have a "variant of uncertain significance (VUS)" identified. A VUS refers to genetic changes that do not meet criteria as "mutation." While the majority of VUS will be reclassified to "benign", some may be reclassified to "mutation" in the future pending more data. There are no management changes based upon a VUS, but men may feel anxious that an uncertain genetic change was identified. The choice of lab is really important to consider. Some labs do not fully sequence genes of interest, or may call variants differently and so this may lead to uncertainty regarding the thoroughness of testing. Overall, these and other issues are important to having a working knowledge of and/or to discuss with a cancer genetics specialist such as a genetic counselor.
Loading...
Loading...