Ask the Experts – Simon P Kim
Local vs Systemic Therapy for T4 Prostate Cancer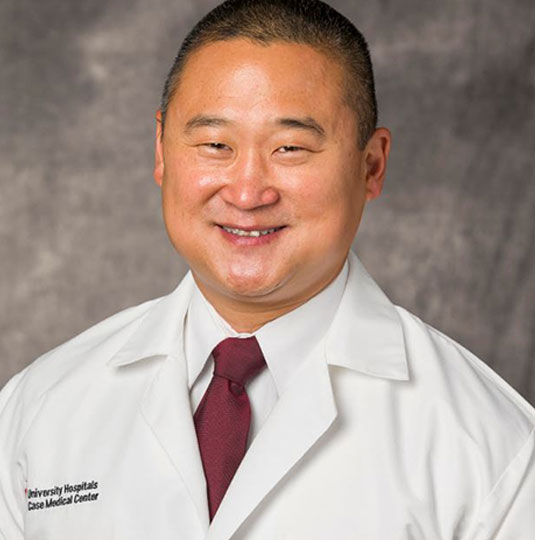 Simon P. Kim, MD, MPH

Practice Community: Cleveland, Ohio
Hospital and Institutional Affiliations: Director of Kidney and Bladder Cancer, Director of Robotic Surgery, and Associate Professor, University Hospitals Cleveland Medical Center Case Western Reserve University School of Medicine Urology Institute, Cleveland, Ohio
Number of Patients Seen in a Week: 1-2 patients with locally advanced prostate cancer
Practice Niche: Urologic oncology
Question 1.In your view, what do the data so far suggest is the best approach for treating patients with cT4 prostate cancer: local or systemic therapy?
Answer
At present, I would suggest that there is no single superior treatment since there is an absence of any clinical trial that critically compared surgery, radiation therapy, and systemic therapy. Our study (Urology. 2018; published online ahead of print) would suggest that some form of local therapy—surgery or radiation therapy—conferred a survival benefit compared to systemic therapy alone. However, our study relied on retrospective data from the National Cancer Database, and results may be subject to selection bias. Furthermore, patients receiving some form of primary therapy tended to be younger and healthier with less comorbidities.
Question 2. Which approach do you favor for most (or all) patients with cT4 PCa?
Answer
For younger patients with good functional status, I will offer surgery or radiation therapy followed by androgen deprivation therapy for some time. The key issue is identifying the patient who would best benefit from local therapy. A key issue is also ideally ensuring that these patients have limited regional lymph node metastasis and absence of distant metastatic disease. For some patients, I would often offer surgery followed by radiation therapy and androgen deprivation therapy.
Question 3. What histopathologic and patient factors are the most important considerations when deciding between local and systemic therapy?
Answer
The key factors about deciding between local and systemic therapy are patient age/life expectancy, functional status, comorbidities, and regional lymph node and metastatic burden. In addition, it is essential to engage in shared decision-making by taking into patient values and preferences into the treatment decision.
Question 4. Should advances in the treatment of advanced PCa (e.g., approval of apalutamide for non-metastatic castration-resistant PCa) in the past few years be taken into account?
Answer
While our study did not specifically look at new treatments for advanced prostate cancer, I do think novel therapies such apalutamide will have a beneficial impact on survival and should be integral to multi-modal treatment plans.
Question 5. Can improvement in imaging techniques (e.g., multiparametric MRI, PET) help to clarify which patients would benefit most from local or systemic therapy?
Answer
In selecting which patients that are considering local therapy, identifying patients' distant metastasis is crucial. As a result, new imaging techniques, in particular PET/CT scans, have a role since many of these patients are at high-risk for metastatic disease.
References
Kim AH, Konety B, Chen Z, et al. Comparative effectiveness of local and systemic therapy for T4 prostate cancer.Urology. 2018; published online ahead of print.
Loading...
Loading...