Ask the Experts – Richard Harris
Managing the Adverse Effects of Drug Treatments for Advanced Prostate Cancer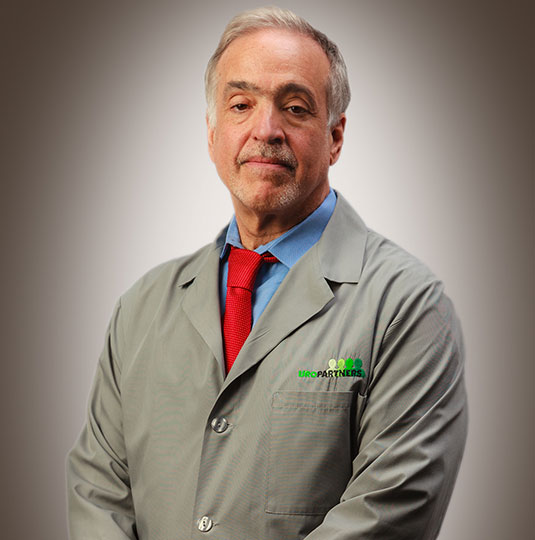 Richard Harris, MD

Practice Community: Chicago
Hospital and Institutional Affiliations: CEO/President, UroPartners; President-elect, Large Urology Group Practice Association
Number of Patients Seen in a Week: About 50
Practice Niche: Urologic oncology
Question 1. In your practice, what are the most frequent adverse effects (AEs) related to the use of medications for advanced prostate cancer?
Answer
We have a plethora of treatment options for advanced prostate cancer. It's almost an embarrassment of riches. Each treatment has potential side effects, but across the whole treatment class, the side effects are relatively mild. In fact, we rarely see men discontinue treatment for advanced prostate cancer due to AEs. Side effects do vary by treatment and require urologists to manage each individually. For example, treatment with immunotherapy is very well-tolerated generally. Patients occasionally observe chills during administration, which is easily rectified with warming blankets, and they may have flu-like symptoms (e.g., low-grade fever, muscle aches or headaches) for a day or 2 after infusion. Asthenia brought on by testosterone-targeting agents (e.g., ADT, abiraterone or enzalutamide) is perhaps the most frequently reported AE in my experience. Fortunately, in regard to the novel oral oncolytics, we have the ability to dose reduce or switch to another agent if warranted. The combination of abiraterone and prednisone can also affect the mineralocorticoid axis, and therefore close monitoring with CMPs is indicated when putting patients on these medications.
Question 2. Which of these AEs do you find has the biggest impact on patients' quality of life?
Answer
Erectile dysfunction in those that are sexually active and asthenia have the greatest impact on patients from a quality-of-life standpoint. Asthenia is distinct from the typical tiredness, and my patients often complain of abnormal physical weakness and lack of energy. We encourage patients to keep active, do some light resistance training, exercise and even just walk to offset the symptoms. Additionally, with the ADT agents involving testosterone, we often hear patients are unhappy about weight gain and some gynecomastia. Another agent, radium 223, can also result in gastrointestinal problems, neutropenia, and anemia.
Question 3. What AEs present the greatest management challenge?
Answer
As stated previously there is a cadre of AEs in managing these patients, but bone health is a critical issue in advanced prostate cancer patients treated with ADT. While ADT is a mainstay of treatment for advanced prostate cancer, it can increase the likelihood of osteoporosis and subsequent fractures, requiring that we closely monitor any bone loss using bone densitometry. There are several osteoprotective therapies like denosumab (injection) or alendronate sodium (oral) that I often prescribe to minimize fracture risk.
Question 4. Do you have any prescribing dilemmas when weighing the benefits and AEs of treatment?
Answer
We make preliminary decisions about what therapies we might want to administer to our patients, which are based on comorbidities, risks and benefits. For the appropriate castration-resistant metastatic patient, we get them started with immunotherapy right away. The National Comprehensive Cancer Network recommends use of immunotherapy as a first-line treatment in these men, and data suggest earlier is when the treatment has the greatest impact.

For the second-generation orals it's kind of a "dealer's choice," but there are a few caveats we take into account when choosing 1 treatment over another. For example, if a patient had a seizure disorder or any past history of strokes, we might go with abiraterone acetate. Severe diabetics may be better managed with enzalutamide because abiraterone with prednisone may make controlling blood sugar more challenging. Once patients are placed on any treatment, we monitor how the treatment is working and which side effects they're experiencing, and tailor their regimens accordingly. It remains important for clinicians to not only monitor patients for AEs, but also track disease progression via regular PSA screening (3-4 months) and appropriate scanning based on PSA doubling times to ensure they are offering patients the most appropriate therapy. Understanding RADAR III imaging guidelines is imperative to appropriate management of this class of patient.
Question 5. What medications do patients take concomitantly for other conditions that might affect your prostate cancer treatment strategy?
Answer
Virtually everybody that we see with advanced prostate cancer have multiple comorbidities given the age population. Quite a few of them are either hypertensive or diabetic and are generally on multiple pharmacotherapy. Of course, every drug must be cross-referenced against what patients are already on. As an example, metoprolol and abiraterone is a relative contraindication. Although possible to co-administer, one must be careful when prescribing enzalutamide with warfarin. We check their medication lists and make sure there's no reactivity or contraindications and adjust accordingly.
Question 6. Do you ever recommend complementary/alternative therapies to manage AEs?
Answer
Clearly, in this day in age, people are starting to use THC or marijuana for pain control. I've seen that in a number of patients. I don't personally have a lot of experience recommending alternative therapies for patients with advanced prostate cancer and really encourage patients to focus on exercise, which carries a lot of benefits.
Loading...
Loading...