Ask the Experts – Jay P Ciezki
Brachytherapy's Place in the Prostate Cancer Armamentarium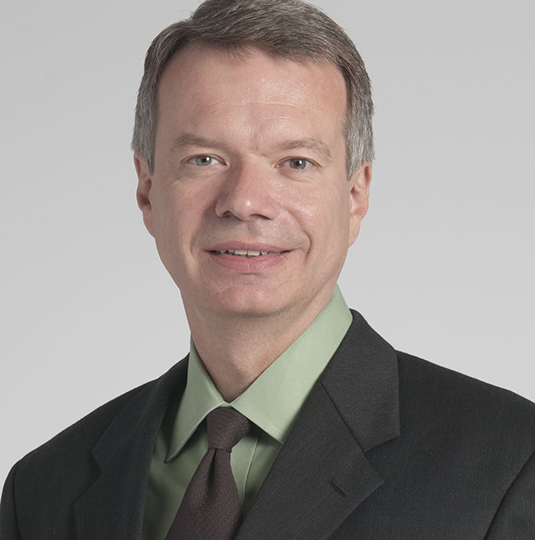 Jay P. Ciezki, MD

Practice Community: Cleveland, Ohio
Hospital and Institutional Affiliations: Department of Radiation Oncology, Cleveland Clinic
Number of Patients Seen in a Week: 10-12 consults, 8 brachytherapy cases

Practice Niche: Radiation Oncology
Question 1. Should brachytherapy be used more than it is for localized prostate cancer?
Answer
Yes, we do a lot of it at the Cleveland Clinic. The major reason is convenience. It is very efficacious, and the toxicity profile is extremely low. It takes a bit more skill on the part of the radiation oncologist. I do believe that brachytherapy deserves a place in all discussions of definitively managed prostate cancer. If the care team with which the patient is involved does not do brachytherapy, then it is unlikely to be offered.
Question 2. What clinical characteristics define the ideal patient for brachytherapy? In which patients would brachytherapy be contraindicated?
Answer
The literature has shown that low-risk patients and intermediate-risk patients are pretty uncontroversial patients who would be eligible for this treatment. But there are recent data showing that even high-risk patients are very well-served by this treatment. Patients with significant bladder obstruction issues may benefit more from prostatectomy. Brachytherapy probably would be contraindicated in patients with extremely advanced localized cancer, such as those with T3 or T4 disease, At one time, prostate size was a factor, but now it is not, because if you have the skill to implant a larger gland you won't need to make any adjustments for prostate volume.
Question 3.How does brachytherapy compare with EBRT with regard to oncologic outcomes and adverse effects?
Answer
They're pretty similar. Probably the biggest difference is that EBRT has more long-term gastrointestinal and genitourinary toxicities.
Question 4. What do you see as major unresolved issues in the use of prostate brachytherapy?
Answer
I would interpret that as, why is it not used as often as other treatments. It has so many advantages. It's a 1-day procedure as opposed to stereotactic body radiation therapy, which is a competitive treatment that takes a week and a half. The biggest difference is that it's more skill intense. It requires more hands-on work by the radiation oncologist, whereas with SBRT, the radiation oncologist input is really relatively minimal, in the sense that you're checking a film, or looking at a plan on a computer. You don't really execute a plan. With brachytherapy, you do the plan and you execute it. I think that can sometimes be intimidating to a lot of radiation oncologists.

The combination of brachytherapy with androgen deprivation therapy (ADT) and external beam radiation therapy (EBRT) is evolving. For intermediate-risk disease, RTOG 02-32 seems to show that brachytherapy alone is sufficient. For high-risk disease, there are new data showing that brachytherapy alone may be adequate and highly competitive with radical prostatectomy with or without post-op EBRT or EBRT plus ADT.1,2

The comparison between LDR and HDR brachytherapy is challenging. A recent paper tried to compare the them,3 but succeeded in comparing LDR plus EBRT vs HDR alone and noted a similarity in outcome, except that the LDR plus EBRT cohort had more acute side effects than the HDR alone cohort. The study did not address the logistic difficulties with HDR: It is a longer process than LDR, and may require inpatient treatment.
Question 5. Is there a place for brachytherapy in post-RP salvage therapy?
Answer
At present, probably not.
References
Yang DD, Muralidhar V, Nguye PL, et al. Lack of benefit from the addition of external beam radiation therapy to brachytherapy for intermediate- and high-risk prostate cancer. Int J Radiat Oncol Biol Phys. 2017;99:90-911. https://www.redjournal.org/article/S0360-3016(17)33622-2/fulltext
Ciezki JP, Weller M, Reddy CA, et al. A comparison between low-dose-rate brachytherapy with or without androgen deprivation, external beam radiation therapy with or without androgen deprivation, and radical prostatectomy with or without adjuvant or salvage radiation therapy for high-risk prostate cancer. Int J Radiat Oncol Biol Phys. 2017;97:962-975. https://www.redjournal.org/article/S0360-3016(16)33554-4/fulltext
Yamazaki H, Msaui K, Suzuki G, et al. High-dose-rate brachytherapy monotherapy versus low-dose-rate brachytherapy with or without external beam radiotherapy for clinically localized prostate cancer. Radiother Oncol. 2018; published online ahead of print. https://www.thegreenjournal.com/article/S0167-8140(18)33544-8/fulltext
Loading...
Loading...