Ask the Experts – Dr Coleman
Focal Therapy for Prostate Cancer: An Update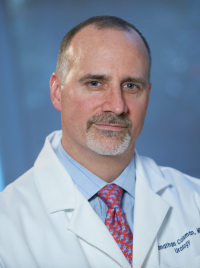 Jonathan A. Coleman, MD
Practice Community
New York, NY

Hospital and Institutional Affiliations
Memorial Sloan Kettering Cancer Center, New York, NY
Number of Patients Seen in a Week
Approximately 40 – 50 per week

Practice Niche
Urology, urologic oncology
Question 1.What are the major challenges regarding focal therapy for prostate cancer?
Answer
The key challenges regarding partial gland treatment for prostate cancer are the potential for undertreatment of disease, defining and verifying treatment success, and monitoring patients for new cancer occurrence or recurrence after treatment. This is a challenge for surgeons and for patient education in a situation where men's expectations may often be unrealistic with regard to key outcomes.
Question 2. What are the leading focal therapy modalities?
Answer
We have done extensive preclinical research and clinical studies with several different tissue ablation technologies and have presented results demonstrating common tissue effects among many. Differences really fall in the area of application of these technologies, in terms of ease of use and reproducibility. Leading technologies may be broadly appealing because of physician comfort level, cost, and accessibility, but may not be the best for achieving the ideal outcomes sought in partial gland ablation. For example, cryotherapy has been widely used for decades. High-intensity focused ultrasound is being heavily marketed by commercial interests, but published results have suggested that clinical results have been modest. More recent data from a randomized trial using vascular targeted photodynamic therapy were highly encouraging, but this was used in a highly select group of patients with very low risk cancers. Many more technologies are now finding their way into clinical use, and it is too early to determine which ones are leading.
Question 3. Have advancements in imaging modalities made focal therapy a reasonably safe option?
Answer
If we are talking about treatment-related patient safety, then yes. Imaging improvements have provided a better means to identify most clinically significant cancers and to target the main portions of these cancers more accurately, which is a major prerequisite for developing safe and successful techniques for tissue-sparing treatments in prostate cancer. In my opinion, further improvements are yet needed to sufficiently delineate the true extent of tumor morphology within the gland and in relation to adjacent sensitive structures (such as nerves) to improve efficacy and limit unwanted adverse effects.
Question 4. Who is the optimal candidate for focal therapy?
Answer
It is important to keep in mind that the goals of partial gland ablation involve sparing much of the normal prostate tissue to preserve function, minimize effect on quality of life, and obviate the need for future interventions. So it is logical, with the current state of technology, that these therapies are best suited to men with small-volume cancers that are not in proximity to sensitive structures and that are predominantly localized to one region of the prostate that can be confluently treated and with little risk for extraprostatic disease.
Suggested Readings
1. McClure TD, Margolis DJ, Hu JC. Partial gland ablation in the management of prostate cancer: a review. Current Opin Urol. 2017;27:156-160. doi: 10.1097/MOU.0000000000000376

2. Woodrum DA, Kawashima A, Gorny KR, Mynderse LA. Prostate cancer: state of the art imaging and focal treatment [published online April 3, 2017]. Clin Radiol. doi: 10.1016/j.crad.2017.02.010

3. Lebdai S, Bigot P, Leroux PA, et al. Vascular-targeted photodynamic therapy for padeliporin for low risk prostate cancer treatment: mid-term oncological outcomes [published online March 18, 2017]. J Urol. doi: 10.1016/j.juro.2017.03.119
Loading...
Loading...