Ask the Experts – Dr Chen
Focal Therapy for Prostate Cancer: An Update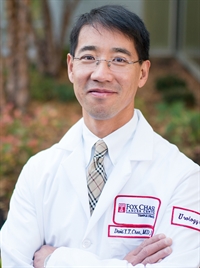 David Y. T. Chen, MD
Practice Community
Philadelphia, PA

Hospital and Institutional Affiliations
Associate Professor of Surgical Oncology and Director, Urologic Oncology Fellowship Program, Fox Chase Cancer Center-Temple Health, Philadelphia, Pennsylvania
Number of Patients Seen in a Week
Approximately 50 per week

Practice Niche
Urologic oncology
Question 1.What are the major challenges regarding focal therapy for prostate cancer?
Answer
The main rationale to not treating the whole prostate is minimizing the known and unavoidable adverse effects that radical treatment can cause. The greatest challenge for focal therapy is confirming the accurate localization of clinically significant tumors and determining whether any clinically significant cancer is being overlooked in the rest of the prostate. Another challenge is selection: determining who is a good candidate for focal therapy and deciding on whether treatment is even needed.

A fundamental problem is the absence of an easy and reliable way to assess who is responding appropriately to treatment. When we treat the entire prostate, we expect a dramatic drop in prostate-specific antigen (PSA) values. If only a portion of the prostate is being treated, it is unclear how PSA will reflect the treatment effect. Magnetic resonance imaging (MRI) could be used to follow patients after focal therapy, but it is not known for certain whether changes on MRI are predictable and will be a true measure of response to therapy. Even if the MRI changes, the patient really needs to have a biopsy performed to prove that MRI changes match the treatment effect. At present, MRI and targeted biopsies still cannot reliably rule out the presence of clinically significant cancers elsewhere in the prostate. So the challenge with adopting focal therapy remains the uncertainty of the accuracy of current prostate cancer staging.
Question 2. What are the leading focal therapy modalities?
Answer
The most common modalities in use today are cryotherapy and high-intensity focused ultrasound, both of which work by ablating tissue. Cryotherapy has been used the most for focal therapy because the technology has been around for a long time, and it is widely available. Cryotherapy is somewhat invasive, in that it requires percutaneous needle insertion into the prostate. High-intensity focused ultrasound potentially has an advantage in being essentially noninvasive. It focuses ultrasound energy into the prostate through the rectum without any needle punctures. Other technologies under investigation in clinical trials for use in focal therapy include laser-based ablation, brachytherapy, and photodynamic therapy.
Question 3. Have advancements in imaging modalities made focal therapy a reasonably safe option?
Answer
Most people would agree that the main advance in the last 5 years has been improvements in MRI that provide greater resolution and detail in prostate imaging. As a rough estimate, MRI probably identifies 70% of cases of prostate cancer that are clinically significant and may require treatment. Before MRI, prostate assessments have been based largely on biopsy results, which can miss cancerous tissue or provide inaccurate information about tumor burden or aggressiveness. The advent of MRI-ultrasound fusion has made it easier to perform targeted biopsies of suspicious areas of the prostate that are found by MRI. However, as much as MRI has improved identification of clinically significant cancer, it still has not been demonstrated that MRI is adequately sensitive to pick up all the areas of cancer that might need treatment.
Question 4. Who is the optimal candidate for focal therapy?
Answer
Ideally, the candidates who might benefit from focal therapy are men who have 1 or 2 tumors that are amenable to targeted treatment. Focal therapy is based on the concept of the index tumor, the main area of cancer that needs to be treated. Some men may have multiple index tumors, and they may need whole-gland treatment. Other men may have multiple areas of cancer, but only 1 or 2 index tumors that require treatment, and the remainder of their cancer might be indolent; perhaps these men could be candidates for focal therapy. In addition, focal therapy candidates should be patients who understand and accept the potential risks and benefits of focal therapy.
Suggested Readings
1. Chaussy CG, Thüroff S. High-intensity focused ultrasound for the treatment of prostate cancer: a review. J Endourol. 2017;31:S30-S37. doi: 10.1089/end.2016.0548

2. Lagabrielle S, Descat E, Lebras Y, et al. Contemporary assessment of the predictive value of multiparametric MRI for index lesion localization in prostate cancer. J Urol. 2017;197. Abstract MP03-10.

3. Ouzzane A, Betrouni N, Valerio M, et al. Focal therapy as primary treatment for localized prostate cancer: definition, needs and future. Future Oncol. 2017;13:727-741. doi: 10.2217/fon-2016-0229

4. Stabile A, Dell'Oglio P, Gandaglia G, et al. Multiparametric MRI cannot predict clinically significant prostate cancer outside the index lesion: implications for extended biopsy templates. J Urol. 2017;197. Abstract MP03-13.

5. Tay KJ, Scheltema MJ, Ahmed HU, et al. Patients selection for prostate focal therapy in the era of active surveillance: an International Delphi Consensus Project [published online March 28, 2017]. Prostate Cancer Prostatic Dis. doi: 10.1038/pcan.2017.8

6. Valerio M, Cerantola Y, Eggener SE, et al. New and established technology in focal ablation of the prostate: A systematic review. Eur Urol. 2017;71:17-34. doi: 10.1016/j.eururo.2016.08.044
Loading...
Loading...