Ask the Experts – Brian F Chapin
Expert Perspectives
Brian F. Chapin, MD, FACS
Local vs Systemic Therapy for T4 Prostate Cancer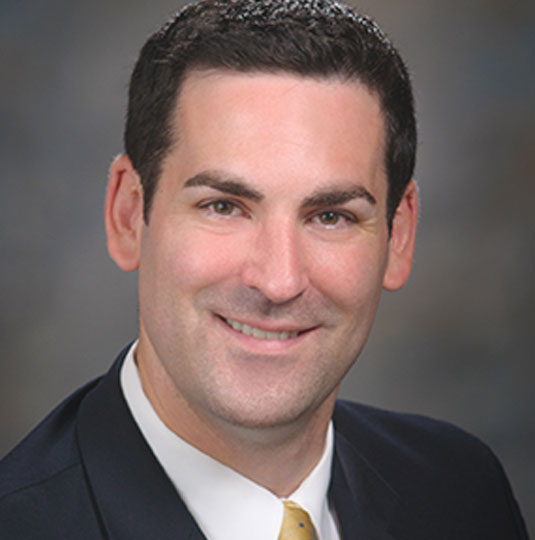 Brian F. Chapin, MD, FACS

Practice Community: Houston, Texas
Hospital and Institutional Affiliations: Associate Professor of Urology, Director, Urologic Oncology Fellowship Program, Director, Clinical Trials Research Program, The University of Texas, M.D. Anderson Cancer Center, Houston, Texas
Number of Patients Seen in a Week: Approximately 40 (all prostate cancer)
Practice Niche: Urologic Oncology, Advanced Prostate Cancer
Question 1.In your view, what do the data so far suggest is the best approach for treating patients with cT4 prostate cancer: local or systemic therapy?
Answer
There is limited contemporary data on the best management of clinical T4 prostate cancer. The incidence is low, and the classification of patients with clinical T4 by digital rectal exam, cystoscopy, and conventional imaging can vary amongst providers. Available data would suggest that patients with cT4 disease in the absence of clinical lymphadenopathy or metastases benefit from local therapy. There are also retrospective data to suggest that even in the presence of metastases, local treatment may provide benefit by reducing local symptomatic progression. Given these findings, when local therapy is possible, it should be considered in the treatment of T4 prostate cancer. Often, systemic therapies are necessary to help cytoreduce tumors to make resectability more achievable or to radio-sensitize tumors if local therapy is planned with radiation.
Question 2. Which approach do you favor for most (or all) patients with cT4 PCa?
Answer
As a result of the variability in how T4 disease is classified, these tumors can often be misclassified bulky localized T3a/b disease or can be tumors with true invasion of the surrounding structures (bladder, rectum, pelvic sidewall). Defining resectability, therefore, also varies substantially by provider, resulting in a heterogeneous approach to classifying and, therefore, treating "clinical T4" disease. Surgery, radiation and most often multimodal approaches can be used, but there is not a favored approach for all; rather, like most prostate cancer treatments, there is a need for an individualized treatment plan. While performing a pelvic exenteration or cystectomy as local treatment can be a reasonable consideration, particularly in symptomatic men, the impact on a patient's quality of life must also be considered given that the majority of these procedures are unlikely to be curative.
Question 3. What histopathologic and patient factors are the most important considerations when deciding between local and systemic therapy?
Answer
There are limited data on specific histologic findings that would predict for specific treatment responses. However, there are some considerations when planning on local therapy applications. There have been data to suggest ductal variants of prostate cancer have lower local recurrence rates when treated with surgery as compared to radiation, so clinicians may consider this histologic finding. Aggressive pathologic features, such as intraductal and cribiform patterns, are common in cT4 prostate cancers, and alone do not necessarily drive local therapeutic options. Clinical responses to systemic treatments may affect local therapy choice, but this is largely based on expert opinion and is not data driven. Choosing systemic versus local approaches vary based on multiple factors: structures involved, surgical resectability, potential for morbidity from radiation, patient comorbidities/factors, local symptoms (pain, urinary obstruction), and the patient's goals. One debated topic is the role of local therapy in men with primary small cell carcinoma. Some new data out of M.D. Anderson (manuscript in preparation) will soon be available to address this question.
Question 4. Should advances in the treatment of advanced PCa (e.g., approval of apalutamide for non-metastatic castration-resistant PCa) in the past few years be taken into account?
Answer
Advances in systemic therapy have had implications on treatment choices in cT4 disease. Many of these patients will harbor occult node positive disease or micro-metastases that may not be visible on conventional imaging studies. Cytoreduction as presurgical or sensitizing therapy for concurrent radiation with standard ADT (LHRH agonists or antagonists) is often insufficient to address this bulky disease. Our approach at M.D. Anderson Cancer Center has been induction with ADT, followed by early response evaluation, with addition of abiraterone or chemotherapeutic strategies with taxane +/- platinum-based chemotherapies. This approach is based off experiences in treating de novo metastatic hormone naïve prostate cancers and extrapolating that experience to men with cT4 disease. For patients requiring cystectomy or pelvic exenteration, we often will consider use of neoadjuvant radiation with the possibility of intra-operative radiation, as well. Clinical trials in this population of men are unlikely given the low incidence, but standardized treatment protocol development is underway at our institution to allow for prospective evaluation and analysis of this approach.
Question 5. Can improvement in imaging techniques (e.g., multiparametric MRI, PET) help to clarify which patients would benefit most from local or systemic therapy?
Answer
Improved staging with multiparametric MRI has likely improved identification of true T4 tumors through better anatomic definition, identifying patients with planes for resectablity and to plan radiation treatment fields for completion of local therapies. MRI has also improved the ability to identify lymph node involvement, thereby improving disease staging, which may affect use of systemic approaches or provide evidence to support insurance coverage of specific systemic therapies. Novel PET imaging with C11-choline, fluciclovine, or PSMA has gained traction in the US, but is often used off label or in clinical trials, as these imaging studies are not recommended by national guidelines for use in newly diagnosed prostate cancer as staging studies. Earlier identification of metastatic disease could be beneficial to identify patients where some form of lifelong systemic therapy may be necessary; however, identification of metastatic disease with novel imaging can often lead to decisions against local therapy treatment. Based on current data, the assumption that local therapy in the presence of occult metastatic disease is not necessary may not be valid. We await results of clinical trials, such as SWOG 1802, evaluating the role of local therapy in metastatic disease and we are in need of trials evaluating the role of PET imaging in the staging of men with high-risk prostate cancers.
References
Kim AH, Konety B, Chen Z, et al. Comparative effectiveness of local and systemic therapy for T4 prostate cancer.Urology. 2018; published online ahead of print.
Hajili T, Ohlmann CH, Linxweiler J, et al. Radical prostatectomy in T4 prostate cancer after inductive androgen deprivation: Results of a single-institution series with long-term follow-up.Int. 2018; published online ahead of print.
Li R, Ravizzini GC, Gorin MA, et al. The use of PET/CT in prostate cancer.Prostate Cancer Prostatic Dis. 2018;21:4-21.
Loading...
Loading...