September 09, 2011
Dialysis in the U.S. and Abroad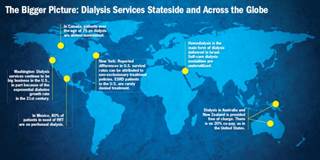 Dialysis in the U.S. and Abroad
Taking all comers may be the best thing about the U.S. end-stage renal disease (ESRD) program—but it could also be the program's downfall. Providing such costly services for so many beneficiaries calls for more intense use of treatments that fall outside the walls of traditional in-center hemodialysis, according to nephrologists both within and outside of the United States who shared with Renal & Urology News their opinions on the management of kidney failure here and abroad.
By the end of 2007 (the most recent year for which the National Kidney and Urologic Disease Information Clearinghouse (NKUDIC) makes the following statistics available), 527,283 U.S. residents were under treatment for end-stage renal disease (ESRD). A total of 87,812 such patients died that year, with 157.3 deaths per 1,000 patient years.
"There is a difference in reported survival of treated patients with kidney failure in the United States as compared with Europe or other industrialized nations," declares Eli A. Friedman, MD, MACP, Distinguished Teaching Professor of Medicine and former Chief of the Division of Nephrology at SUNY Downstate Medical Center in Brooklyn, N.Y. "The difference could be that we treat patients who shouldn't be treated, and they have poor prognosis and they die; or that Europe doesn't treat patients who should be treated, and therefore they've taken out patients with the worst prognosis, altering their survival for the treated cohort."
The economics of the situation may be far more telling than the health conditions of the given patient populations. "If we look at the per-person parity for countries with more than 2 billion people, it's $5,370 per year in China, $2,740 in India—and $45,850 in the United States," Dr. Friedman reports. "According to the World Bank, in 2010, 82 countries had a per-person parity of less than $5,000 a year, and 52 countries with less than $1,000 per year. So, can these 134 countries afford uremia therapy? The answer is no."
With the United States topping the list for most kidney transplants performed in persons aged 65 to 74 years, "we treat more high-risk people and older people than any other country," Dr. Friedman observes. "If you look at Canada, there's no rule that says, 'Don't dialyze patients who are over the age of 75.' But if you try to find patients over the age of 75 in Canada who are on dialysis, they're almost nonexistent. That's because they're not referred from the general practitioner to the nephrologist. The argument is that the apparent difference in selection therapy represents the ability of the country to support the population who would benefit from therapy."
Mexico also serves as an example of this, according to Dr. Friedman. "Of the patients treated there—very few—about 80% are on peritoneal dialysis. [The country] can only afford hemodialysis for the wealthy or the politically connected."