November 07, 2018
Medicaid Expansion Tied to Better Kidney Disease Survival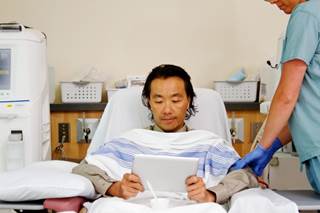 Findings among patients with end-stage renal disease initiating dialysis.
(HealthDay News) -- There were significant improvements in one-year survival among patients with end-stage renal disease (ESRD) initiating dialysis following Medicaid expansion with the Affordable Care Act, according to a study published online in the Journal of the American Medical Association.
Shailender Swaminathan, PhD, from the Brown University School of Public Health in Providence, Rhode Island, and colleagues assessed the association between Medicaid expansion and one-year mortality among nonelderly patients with ESRD initiating dialysis. Outcomes were assessed during January 2011 through March 2017.
There were 142,724 patients in expansion states (mean age, 50.2 years; 40.2% women) and 93,522 patients in nonexpansion states (mean age, 49.7 years; 42.4% women). The researchers found that one-year mortality following dialysis initiation declined −0.8% after expansion, while the decline was −0.2% in nonexpansion states. The largest reductions in mortality were seen for black patients (−1.4%) and patients aged 19 to 44 years (−1.1%). Expansion was associated with a 10.5% increase in Medicaid coverage at dialysis initiation, a −4.2% decrease in being uninsured, and a 2.3% increase in the presence of an arteriovenous fistula or graft.
"Medicaid may have resulted in better adherence to treatment sessions, normally 3 times a week, because it eliminated co-payments of about $150 per week," Swaminathan said in a statement. "On the other hand, because out-of-pocket medical payments were reduced, Medicaid may have also improved patients' finances, thereby improving health. More research may be essential to unravel this."
References
Swaminathan S, Sommers BD, Thorsness R, et al. Association of Medicaid Expansion With 1-Year Mortality Among Patients With End-Stage Renal Disease. JAMA. 2018;320(21):2242-2250. doi:10.1001/jama.2018.16504

Erickson KF, Ho V, Winkelmayer WC. Did Medicaid Expansion Reduce Mortality Among Patients Initiating Dialysis for Irreversible Kidney Failure? JAMA. 2018;320(21):2206-2208. DOI:10.1001/jama.2018.14291