August 30, 2017
Liraglutide Linked With Lower Diabetic Kidney Disease Risk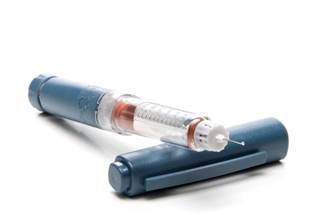 Liraglutide-treated patients were 22% less likely than placebo recipients to experience a composite outcome of renal events.
Diabetic kidney disease is less likely to develop or progress in patients with type 2 diabetes treated with liraglutide, a glucagon-like peptide 1 (GLP-1) agonist, according to a secondary analysis of the LEADER (Liraglutide Effect and Action in Diabetes: Evaluation of Cardiovascular Outcome Results NCT01179048) trial.
For the study, investigators randomly assigned 9340 patients with type 2 diabetes and a high risk of cardiovascular disease to receive, in addition to usual care, liraglutide or placebo. Liraglutide-treated patients had a significant 22% lower risk of a composite renal outcome of new-onset persistent macroalbuminuria, persistent doubling of serum creatinine, end-stage renal disease (ESRD), and death due to renal disease compared with patients who received placebo. The composite renal outcome occurred in 268 (5.7%) of 4668 liraglutide patients and 337 (7.2%) of 4672 placebo recipients over a median 3.8 years of follow-up.
The decreased risk of the composite outcomes was attributable mainly to fewer instances of persistent macroalbuminuria among the liraglutide group (161 liraglutide vs 215 placebo), Johannes F.E. Mann, MD, of the KfH Kidney Center in Munich, Germany, and colleagues reported in the New England Journal of Medicine. Liraglutide was associated with a significant 26% reduction in the risk of macroalbuminuria. The investigators found no significant reduction in the risk of persistent doubling of serum creatinine or ESRD.
The liraglutide and placebo groups had similar rates of adverse events overall: 15.1 vs 16.5 events per 1000 patient-years, respectively. The rates of acute kidney injury were 7.1 vs 6.2 events per 1000 patient-years, respectively.
In a previous study published in the New England Journal of Medicine (2016;375:323-334), treatment with empagliflozin, an inhibitor of sodium–glucose cotransporter 2 (SGLT2), was associated with slower progression of kidney disease and lower rates of clinically relevant events compared with placebo when added to standard care among patients with type 2 diabetes at high cardiovascular risk.
In an accompanying editorial, Ian H. de Boer, MD, of the University of Washington, and the Veterans Affairs Puget Sound Health Care System, both in Seattle, stated: "Currently, it is logical to consider including a GLP-1 agonist or SGLT2 inhibitor in the glucose-lowering regimen of patients with type 2 diabetes and mild-to-moderate diabetic kidney disease, with the anticipation of salutary renal and, particularly, cardiovascular effects."
Dr Mann and his team said they could not pinpoint why liraglutide may offer renal protection, but suggested the mechanisms were multifactorial. "The trial design prevents us from ascertaining the extent to which the active drug, glucose control, or other factors (including concomitant medications) explain outcomes," they wrote.
The study was funded in part by Novo Nordisk, which makes several liraglutide products (Victoza®, Saxenda®).
References

Mann JFE, Ørsted DD, Brown‑Frandsen K, et al. Liraglutide and renal outcomes in type 2 diabetes. N Engl J Med. 2017;377:839-848. doi:10.1056/NEJMoa1616011 [published online ahead of print]
de Boer IH. A new chapter for diabetic kidney disease. N Engl J Med. 2017;377;9. doi: 10.1056/NEJMe1708949 [published online ahead of print]
Wanner C, Inzucchi SE, Lachin JM, et al. Empagliflozin and progression of kidney disease in type 2 diabetes. N Engl J Med 2016;375:323-334. doi:10.1056/NEJMoa1515920