August 20, 2015
Metformin May Lower LDL Cholesterol
This article originally appeared
here.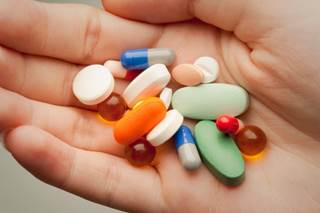 Possible metabolic mechanism includes activation of AMPK, FADS suppression.
(HealthDay News) -- The diabetes drug metformin changes metabolic profiles of 3 metabolites that may lower LDL cholesterol (LDL-C), according to a study published online in Diabetes Care.
Tao Xu, from Helmholtz Zentrum München in Neuherberg, Germany, and colleagues analyzed both metabolomic and genomic data from 3 independent cohorts, including 151 patients with type 2 diabetes (T2D) treated with metformin (mt-T2D). Fasting serum samples were used to quantify 131 metabolites.
The researchers found significantly lower (P < 5.0E-06) concentrations of 3 metabolites (acyl-alkyl phosphatidylcholines [PCs]) when comparing mt-T2D with 4 control groups who were not using glucose-lowering oral medication. These findings persisted when controlling for conventional risk factors of T2D and were replicated in 2 independent studies. Levels of these metabolites decreased significantly in patients after they started metformin treatment during 7 years of follow-up. There was an association between the reduction of these metabolites and a lowered blood level of LDL-C. There was an association between variations of these 3 metabolites and 17 genes (including FADS1 and FADS2).
"Our results indicate that metformin intake activates AMPK and consequently suppresses FADS, which leads to reduced levels of the three acyl-alkyl PCs and LDL-C," the authors write. "Our findings suggest potential beneficial effects of metformin in the prevention of cardiovascular disease."
Source