September 08, 2016
Avoid Grilling, Frying, Baking to Stave Off Type 2 Diabetes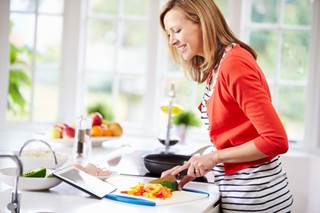 Researchers suggest steaming, poaching, and stewing for better health.
(HealthDay News) -- Dry-heat cooking that produces advanced glycation end products (AGEs) may increase the risk of type 2 diabetes, according to a study published online in Diabetologia.
The researchers randomly assigned study participants to 1 of 2 diet groups: a regular-AGE diet group included 49 people; a low-AGE diet group had 51. All were at least 50 years old, with at least 2 health conditions related to metabolic syndrome. Those in the low-AGE group were given instructions on how to lower the AGE content in their foods. They were told to avoid frying, baking, or grilling foods. Instead, they were encouraged to boil, steam, stew, or poach their meals. The regular-AGE group was instructed to continue cooking as they already did. The study lasted 1 year.
In the low-AGE group, "all the parameters in stress and inflammation we tested for improved. And we showed that insulin resistance came down," lead author, Jaime Uribarri, M.D., a professor of medicine at the Icahn School of Medicine at Mount Sinai in New York City, told HealthDay. Body weight dropped slightly in the low-AGE group, and no side effects were seen, the authors said.
"Restricted AGE intake ameliorates insulin resistance in obese people with the metabolic syndrome, and may reduce the risk of type 2 diabetes, without necessitating a major reduction in adiposity," the authors write. "Elevated serum AGEs may be used to diagnose and treat 'at-risk' obesity."
Source
1. Vlassara H, Cai W, Tripp E, et al. Oral AGE restriction ameliorates insulin resistance in obese individuals with the metabolic syndrome: a randomised controlled trial. Diabetologia. doi: 10.1007/s00125-016-4053-x.