December 12, 2017
The Adrenal Gland: The Forgotten Urologic Organ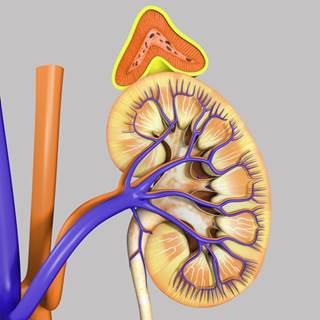 adrenal gland
The adrenal glands are easily overlooked. Distinguished anatomists from centuries ago such as Aelius Galen, Leonardo da Vinci, and Andreas Vesalius omitted the adrenals in their early descriptions of the retroperitoneum. The critical importance of the adrenal gland was recognized in the mid-19th century by Thomas Addison and CharlesÉdouard Brown-Séquard, who demonstrated that bilateral adrenalectomy uniformly resulted in death. This led to the discovery and isolation of adrenaline, cortisol and subsequently aldosterone in the 1930's, 1940's, and 1950's, and a 1950 Nobel Prize for Edward C. Kendall, Philip S. Hench, and Tadeus Reichstein.1
Today, specialists in the retroperitoneum too easily overlook the adrenal glands, perhaps because they are rarely the focal point of pathology. Oncologically, primary adrenal cortical carcinomas are rare (1 per million or about 200 cases/year in the U.S.). While metastatic disease to the adrenal gland is common, it only occasionally occurs in isolation, rendering it more suitable for systemic therapies.
Incidental adrenal abnormalities ("incidentalomas") are quite common, however. Adrenal adenomas are found in up to 7% of adults aged 70 years or more, with similar trends observed in historical autopsy series. While the overwhelming majority of adrenal incidentalomas display no evidence of metabolic activity, a small percentage of them can exhibit metabolic activity representing "surgical" lesions.
When followed serially, about 9% of incidental adrenal lesions increase in size and 2% become metabolically active during follow-up, prompting recommendations from a National Institute of Health panel for annual metabolic hormonal screening for the first 3 to 4 years following diagnosis, especially for masses 3 cm or larger. Moreover, current guidelines advise surgical resection of adrenal masses regardless of radiographic characteristics if the lesion is 4 cm or larger, although the exact cutoff remains debated.
In an era of routine imaging, incidental or bystander lesions offer insights not only into biology and epidemiology of adrenal abnormalities, but, perhaps more importantly, into our interpretation of screening, disease, lead time bias, and the effectiveness of our therapeutic interventions. While over diagnosis may lead to over management, under diagnosis sometimes represents a missed opportunity. In the case of the adrenal glands, the former may predominate. For the discriminating urologist, however, the art of medicine is to discern the difference.
Robert G. Uzzo, MD, FACS G.Willing "Wing" Pepper Chair in Cancer Research Professor and Chairman, Department of Surgery Fox Chase Cancer Center Temple University School of Medicine, Philadelphia
Reference
1. Kutikov A, Crispen PL, Uzzo RG: Chapter 65: Pathophysiology, Evaluation, and Medical Management of Adrenal Disorders. In: Campbell-Walsh Urology. Edition 11. (Wein AJ, et al, eds). Elsevier, Philadelphia, PA, 2015