September 15, 2016
Medical Advancements Versus the Status Quo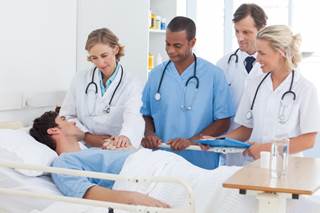 Medical research inherently seeks to improve approaches to clinical care.
Scientific research is a challenge to the status quo. It is based on an innate desire to know more or an assumption that improvements always can be made. In medicine, this translates into a perpetual impetus to improve patient health outcomes and quality of life. In this regard, investigators often question the wisdom of current clinical practice and test whether alternative patient management approaches could be better.
Here are examples of just such efforts. A phase 2 study led by Brian I. Rini, MD, of Cleveland Clinic, tested whether active surveillance (AS) can be an appropriate management strategy for patients who have metastatic renal cell carcinoma (mRCC), for whom immediate systemic treatment is usually recommended. As Dr Rini stated, the study demonstrated that a subset of patients with mRCC have slow-growing disease that can be managed safely using active surveillance, "which could spare them the inconvenience and debilitating side effects of aggressive treatments for about a year, and in some cases several years, without worsening anxiety and depression." The study, which was published in The Lancet Oncology, included only 52 patients, but the results, if confirmed by larger trials, could give clinicians another option to offer selected mRCC patients, one that could delay systemic therapy and its adverse effects.
In another study, published in European Urology, Pär Stattin, MD, of Uppsala University in Uppsala, Sweden, and colleagues demonstrated that radical local treatment may decrease mortality in men with very high-risk prostate cancer, for whom clinical guidelines recommend only androgen deprivation therapy (ADT). The study was a semiecologic population-based investigation, and, as Dr Stattin's group pointed out, the findings need confirmation in randomized controlled trials. Still, their study may represent an important step forward in providing these men with a possible way to avoid the complications associated with ADT.
Lastly, in a study published in the Clinical Journal of the American Society of Nephrology, Matthew J. Oliver, MD, of Sunnybrook Health Sciences Centre in Toronto, and colleagues compared hospitalization rates associated with assisted peritoneal dialysis (PD) and in-center hemodialysis (HD) and found no significant difference. Assisted PD is a treatment option for patients who would like to receive dialysis at home but have significant barriers to self-care. Evidence that this modality can be a safe alternative to in-center HD could promote its use among certain populations—such as the elderly—for whom traveling to an HD center can be disruptive and inconvenient. At this point, these studies only offer the promise of better patient management, but they also exemplify how advancements in medicine stem from researchers' nonacceptance of the status quo.