May 25, 2018
Longer Dialysis Time and Patient Suffering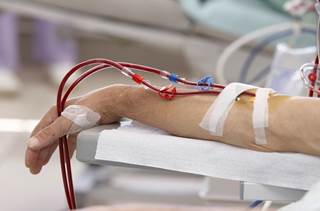 CMS also has upcoming plans to impose fiscal penalties related to dialysis treatment.
In recent years, there has been a trend to extend hemodialysis (HD) treatment time to 4 hours or longer. Although longer dialysis time may benefit some patients, it may be associated with worse suffering in others. Some patients can experience worsening muscle cramps, low blood pressure episodes, and fainting towards the end of, or immediately after, a dialysis session. Reimbursement is likely the main reason for the trend toward longer HD sessions. The Center for Medicare and Medicaid Services (CMS) has stipulated a minimum dialysis dose adequacy, also known as Kt/V, of 1.2 (and major dialysis companies have required a Kt/V >1.4 to ensure compliance). Kt/V is based on the reduction of blood urea nitrogen during each dialysis treatment. This minimum Kt/V criterion is a core component of the Quality Incentive Plan (QIP), meaning that a dialysis clinic may lose a portion of its CMS reimbursement if the minimum dialysis dose requirement is not met. Hence, when a dialysis patient has a lower calculated Kt/V, the treatment time is often increased.
CMS also has upcoming plans to impose fiscal penalties related to dialysis treatment with fluid removal (ultrafiltration) greater than 13 mL/kg hourly unless the patient dialyzes 4 hours or longer. Mostly women are affected by this because they generally have a lower body weight than men. Not only may small women not benefit, they might suffer from 4-hour dialyzing sessions.
In prescribing longer treatments, residual renal function (RRF) is often ignored. Many incident and prevalent dialysis patients continue to make substantial amounts of urine even after they transition to dialysis. A patient whose native kidney urea clearance is greater than 3 mL/min may benefit more from incremental dialysis because the time and frequency of treatment is gradually increased as the urine output decreases over time.
I have recently suggested to dialysis practice stakeholders to discuss with CMS the pressing urgency to avoid mandatory HD times of 4 hours or more for patients with so-called "low" dialysis adequacy or low fluid removal rates. These recent practices ignore the fundamental patient-centeredness and precision medicine, i.e., personalized therapy, and pay little attention to dialysis patient voice.
The rigid view that "longer dialysis is better" is being imposed on hundreds of thousands of dialysis patients with little consideration of patient-related factors and patient preferences. Many patients have significant RRF and do not need long dialysis sessions. Mandatory prolonged dialysis times have led to major suffering for tens of thousands of dialysis patients nationwide. The National Forum of ESRD Networks detailed its concerns in a letter to CMS. The group deserves the support of the entire nephrology community.