June 13, 2018
Low-Level Lead Exposure Found to Increase CKD Risk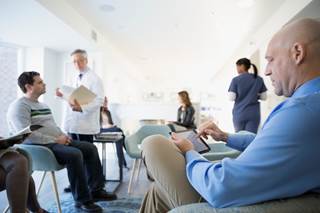 Individuals with higher blood lead levels experienced greater decreases in eGFR.
Low-level exposure to lead is associated with decreased kidney function, according to a recent study published online ahead of print in the American Journal of Kidney Diseases.
In a prospective population-based cohort, Florencia Harari, MD, PhD, of Sahlrenska University Hospital and University of Gothenburg, Sweden, and colleagues found that individuals with blood lead levels in quartiles 3 and 4 (median 29 and 46 μg/L, respectively) experienced significantly greater decreases in estimated glomerular filtration rate from baseline to follow-up (about 16 years later) than those with blood levels in quartile 1 (median 15 μg/L).
In a model adjusted for age, sex, smoking alcohol intake, and other potential confounders, individuals in the quartile 4 had a significant 49% increased risk of chronic kidney disease compared with those in the quartiles 1–3 (reference), the investigators reported.