May 27, 2014
Study Finds No Resveratrol Health Benefits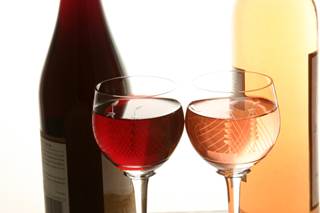 Urinary resveratrol levels show no influence on mortality, CVD, or cancer.
Resveratrol, a substance found in grapes, red wine, and chocolate that is thought to have antioxidant, anti-inflammatory, and anti-cancer properties, has no significant effect on all-cause mortality, according to a study of older community-dwelling adults. It also is not associated with inflammatory markers, cardiovascular disease (CVD), or cancer.
The prospective cohort study, which was led by Richard D. Semba, MD, MPH, of The Johns Hopkins School of Medicine in Baltimore, included 783 community-dwelling men and women aged 65 years and older. The investigators measured 24-hour urinary resveratrol metabolites. During 9 years of follow-up, 268 subjects (34.3%) died.
From the lowest to the highest quartile of resveratrol urinary metabolite concentrations, the proportion of participants who died from any cause was 34.4%, 31.6%, 33.5%, and 37.4%, respectively, Dr. Semba's group reported online ahead of print in JAMA Internal Medicine. Resveratrol levels were not significantly associated with serum levels of the inflammatory markers C-reactive protein, interleukin (IL)-6, IL-1β, and tumor necrosis factor, nor were they associated with prevalent or incident CVD or with cancer.
"Resveratrol levels achieved with the diet do not show any apparent protective association with disease and markers of disease in humans and are not associated with lifespan," the authors wrote. "To our knowledge, this is the first large, observational epidemiologic study to examine the relationship between urinary resveratrol from normal dietary intake and health outcomes in humans."