October 11, 2016
Hospital Choice Crucial to Heart Attack Survival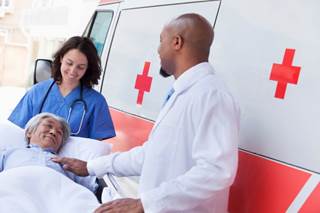 Patients treated at hospitals with better track records gained additional year of life.
(HealthDay News) -- Older patients with myocardial infarction (MI) who receive immediate high-quality care from their hospital often receive a long-term survival advantage, according to a study published in the New England Journal of Medicine.
Emily Bucholz, MD, PhD, MPH, a resident physician at Boston Children's Hospital, and colleagues reviewed 119,735 Medicare-covered MI patients treated at 1824 hospitals across the United States between 1994 and 1996. The review included an average 17-year follow-up to track how long the patients lived. Hospitals were ranked as "high-performing" or "low-performing" based solely on the 30-day survival rates of the MI patients, who were an average of 76 years old.
The research team discovered that patients treated at high-performing hospitals had an overall increased life expectancy, compared to others treated at hospitals where more patients die during the first month of care. The average survival advantage was found to be between 0.74 and 1.14 years.
"One year is actually a fairly substantial amount of time for these patients," Bucholz told HealthDay. "From a policy level, investing in initiatives that improve short-term performance actually have long-term implications for patient outcomes."
Source
1. Bucholz EM, Butala NM, Ma S, Normand SLT, Krumholz HM. Life Expectancy after Myocardial Infarction, According to Hospital Performance. N Engl J Med 2016; 375:1332-1342. doi: 10.1056/NEJMoa1513223.