August 31, 2017
High Carb Diet Linked With Early Death
This article originally appeared
here.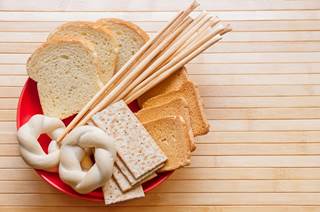 High-carb diets were associated with a 28% increased risk of death vs low-carb diets.
(HealthDay News) — Too many carbs, not fats, may be the culprit in raising risk of premature death, according to a study published online Aug. 29 in the The Lancet to coincide with the European Society of Cardiology Congress 2017, held from Aug. 26 to 30 in Barcelona, Spain.
Mahshid Dehghan, PhD, an investigator with the Population Health Research Institute at McMaster University in Hamilton, Canada, and colleagues tracked the diet and health of 135,335 people, aged 35 to 70, from 18 countries around the world, to gain a global perspective on the health effects of diet. Participants provided detailed information on their social and economic status, lifestyle, medical history, and current health. They also completed a questionnaire on their regular diet, which researchers used to calculate their average daily calories from fats, carbohydrates, and proteins. The research team then tracked the participants' health for about 7 years on average, with follow-up visits at least every 3 years.
The investigators found that high-carbohydrate diets are common, with more than half of the people deriving 70% of their daily calories from carbs. People with a high fat intake — about 35% of their daily diet — had a 23% lower risk of early death and 18% lower risk of stroke compared to people who ate less fat. The researchers also noted that a very low intake of saturated fats (below 3% of daily diet) was associated with a higher risk of death in the study, compared to diets containing up to 13% daily. At the same time, high-carb diets — containing an average 77% carbohydrates — were associated with a 28% increased risk of death vs low-carb diets.
"The study showed that contrary to popular belief, increased consumption of dietary fats is associated with a lower risk of death," Dehghan told HealthDay. "We found no evidence that below 10% of energy by saturated fat is beneficial, and going below 7% may even be harmful. Moderate amounts, particularly when accompanied with lower carbohydrate intake, are probably optimal."
References
Dehgan M, Mente A, Zhang X, et al. Associations of fats and carbohydrate intake with cardiovascular disease and mortality in 18 countries from five continents (PURE): a prospective cohort study. Lancet. 29 Aug 2017. doi: 10.1016/S0140-6736(17)32252-3