September 10, 2015
Higher Phosphorus Ups Anemia Risk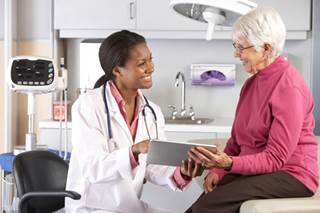 Researchers find link in the non-dialysis population.
Higher serum phosphorus levels may increase the risk for moderate anemia in individuals with early chronic kidney disease (CKD) or normal kidney function, according to investigators.
In a study of 155,974 adult enrollees in the Kaiser Permanente Southern California health system, each 0.5 mg/ dL increment in serum phosphorus level was associated with a significant 16% increased risk for moderate anemia. Patients in the highest tertile of serum phosphorus had a significant 26% increased likelihood of moderate anemia than those in the middle tertile, Lac Tran, MD, of Kaiser Permanente Los Angeles Medical Center, and colleagues reported online ahead of print in Nephrology Dialysis Transplantation.
Of the 155,974 subjects, 4.1% had moderate anemia and 12.9% had mild anemia. The investigators defined moderate anemia as a hemoglobin level below 11 g/dL for both sexes and mild anemia as a hemoglobin level below 12 g/dL in women and less than 13 g/dL in men.
"Our study is one of the largest, ethnically diverse, non-dialysis populations to date evaluating the association between phosphorus and anemia," Dr. Tran told Renal & Urology News. "Unlike prior studies, we had comprehensive information on co-morbidities and laboratory [parameters] that enabled us to adjust for potential confounders and exclude many secondary causes of anemia."
Theoretically, based on the new findings, if 87 individuals were treated to lower their phosphorus levels from 4.0 to 3.5 mg/dL, one excess case of moderate anemia could be prevented, Dr. Tran noted. This implies that lowering phosphorus within the study population by 0.5 mg/dL could correlate with prevention of anemia in hundreds of individuals, he said. "This is important because anemia itself has already been associated with adverse outcomes, including higher incidences of coronary events, stroke, and progression to renal failure."
The study identified female sex, Asian race, diabetes, low albumin, and low iron saturation as other independent anemia risk factors. In addition, the study showed that each 10-unit increase in estimated glomerular filtration rate was associated with a 6% decrease in the risk of moderate anemia.
The researchers stated that fibroblast growth factor 23 (FGF-23) may have a role in the mechanism underlying the association between hyperphosphatemia and anemia. High phosphorus levels have been shown to increase FGF-23 levels, which in turn is associated with klotho suppression, they explained. In animal studies, low klotho levels have been associated with poor outcomes. In addition, low klotho causes a deficiency in activated vitamin D, and vitamin D deficiency has been implicated in the development of anemia.
Dr. Tran's group acknowledged some study limitations. The information for the study came from a real-world clinical practice environment. "Thus, there is a bias toward those individuals who had indications for concurrent hemoglobin, creatinine and phosphorus values to be drawn. This cohort may represent a sicker population with unhealthy lifestyles who sought medical care."
Another limitation was a lack of information about medication use among cohort members. "The use of medications such as phosphorus binders, erythropoietin, steroids or iron salts was not ascertained. Among CKD patients, certain phosphorus binders have been associated with improved anemia parameters."