February 18, 2015
FDA Approves Unique Iron Replacement Product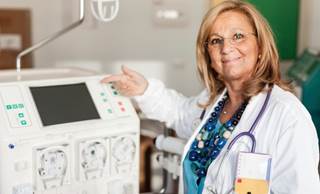 Soluble ferric pyrophosphate is given to hemodialysis patients via dialysate.
The FDA recently approved soluble ferric pyrophosphate (SFP) as an iron replacement product to maintain hemoglobin levels in adult patients on hemodialysis.
The product, which is marketed as Triferic by Rockwell Medical, Inc., of Wixom, Mich., is a unique iron compound delivered to iron-deficient HD patients via dialysate, replacing the 5-7 mg of iron lost during dialysis treatments. Once in the dialysate, SFP crosses the dialyzer membrane and enters the bloodstream, where it immediately binds to transferrin and is delivered to the bone marrow, similar to the way dietary iron is processed in the human body.
"We are very excited about this drug approval," said Raymond Pratt, MD, Chief Medical Officer of Rockwell. "We see Triferic as a paradigm shift in the treatment of anemia. Importantly, Triferic is the first product that can safely allow dialysis patients to maintain target hemoglobin without the need for IV iron."