December 21, 2016
Anemia Linked to Vitamin D Insufficiency in Children With CKD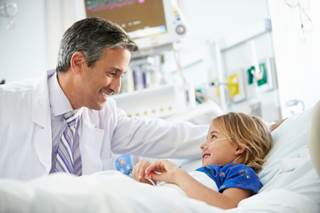 Low vitamin D status was associated with a 2-fold higher risk for anemia.
Anemia may be more likely to develop in children with chronic kidney disease (CKD) who have inadequate levels of 25-hydroxyvitamin D (25D), investigators reported at the American Society of Nephrology's 2016 Kidney Week meeting.
In a cross-sectional analysis, Kathleen Elizabeth Altemose, MD, MS, of Johns Hopkins University in Baltimore, and colleagues found that 57.6% of the 580 children in the Chronic Kidney Disease in Children (CKiD) study had 25D levels below 30 ng/mL (median 28.3 ng/mL). All study participants were aged 16 and younger and had an estimated glomerular filtration rate (GFR) of 30 to 90 mL/min/1.73m2 at baseline.
Vitamin D insufficiency was associated with double the risk for anemia, defined as hemoglobin levels below the fifth percentile for a child's age and sex. Adjusting for ferritin and transferrin saturation did not weaken the relationship. Other factors were also ruled out as major contributors, including race, age, sex, body mass index, GFR (measured by plasma clearance of iohexol), and treatment with iron or an erythropoiesis-stimulating agent.
For each 1 ng/mL increase in 25D, the researchers observed a 0.2 g/dL increase in hemoglobin and a 3% decrease in anemia risk. Inadequate 25D is "a potentially modifiable risk factor for the anemia of CKD," Dr Altemose and colleagues concluded. Future research is needed to see whether interventions that improve 25D levels attenuate anemia risk.
The investigators noted that previous research has linked low vitamin D levels with increased risks for anemia in children with normal kidney function.
Reference
1. 1. Altemose KE, Kumar J, Anthony A. Portale AA, Bradley Warady B, Susan L. Furth SL, Jeffrey J. Fadrowski JJ, MD, Meredith A. Atkinson MA. Inadequate Vitamin D and Risk for Anemia in the CKiD Cohort. Presented at: Kidney Week 2016. November 15-20, 2016. Chicago. Abstract: TH-PO857.