July 03, 2018
Nitric Oxide Cuts Kidney Injury After Long Cardiac Surgery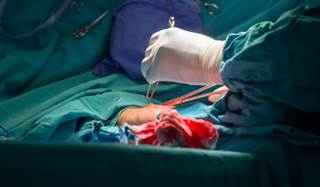 Reduced kidney injury, better kidney function seen after prolonged cardiopulmonary bypass.
(HealthDay News) -- Nitric oxide gas may lead to a reduction in the incidence of acute kidney injury and an improvement in long-term kidney function in patients undergoing multiple valve replacement and prolonged cardiopulmonary bypass, according to a study published in the American Journal of Respiratory and Critical Care Medicine.
Chong Lei, MD, PhD, from the Fourth Military Medical University in China, and colleagues assessed whether administration of nitric oxide reduces the incidence of postoperative acute kidney injury and improves long-term kidney outcomes among 244 patients undergoing elective, multivalve replacement surgery (mostly due to rheumatic fever) requiring prolonged cardiopulmonary bypass. The patients were randomized to receive either nitric oxide or nitrogen (control).
The researchers found that oxidation of ferrous plasma oxyhemoglobin to ferric methemoglobin was associated with reduced postoperative acute kidney injury from 64% in the control group to 50% in the treatment group. Transition to stage 3 chronic kidney disease was reduced at 90 days from 33% in the control group to 21% in the treatment group and at one year from 31% to 18%. In addition, nitric oxide treatment reduced the overall major adverse kidney events at 30 days (relative risk, 0.4; 95% confidence interval, 0.18 to 0.92; P=0.016), 90 days (relative risk, 0.4; 95% confidence interval, 0.17 to 0.92; P=0.015), and one year (relative risk, 0.47; 95% confidence interval, 0.2 to 1.1; P=0.041).
"These results should be assessed in non-Chinese patients without rheumatic fever," write the authors.
Reference
Lei C, Berra L, Rezoagli E, et al. Nitric Oxide Decreases Acute Kidney Injury and Stage 3 Chronic Kidney Disease after Cardiac Surgery. Am J Resp Crit Care Med. DOI: 10.1164/rccm.201710-2150OC