April 03, 2017
AKI Predictors in PE Patients Identified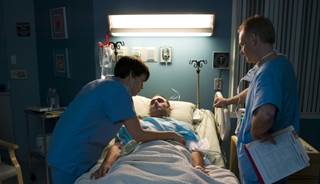 Chronic kidney disease and anemia are associated with an increased risk for acute kidney injury in patients with pulmonary embolism.
Pre-existing chronic kidney disease (CKD) and anemia are among the independent risk factors for acute kidney injury (AKI) in patients hospitalized for pulmonary embolism (PE), investigators reported in Medicine (2017;96:9:e5822).
Chih-Hsiang Chang, MD, of Chang Gung Memorial Hospital Taoyuan City, Taiwan, and colleagues studied 7588 patients hospitalized for PE and administered anticoagulation or thrombolytic agents. AKI was diagnosed in 372 patients (4.9%). On multivariable analysis, AKI patients had nearly 6-, 3-, 2-, and 3-fold higher odds of have pre-existing CKD, anemia, sepsis, and massive PE, respectively, than non-AKI patients. AKI patients also had 29% and 34% higher odds of having diabetes mellitus and hypertension, respectively.