April 08, 2015
Vitamin D Deficiency Ups Post-Transplant UTI Risk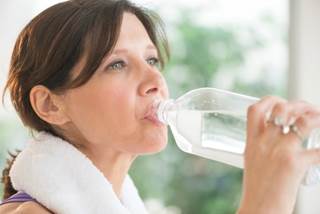 Is Increasing Fluid Intake Warranted for Kidney Stones?
Vitamin D deficiency is an independent risk factor for urinary tract infections (UTIs) after renal transplantation, a recent study found.
Young Eun Kwon, MD, of Yonsei University College of Medicine in Seoul, Korea, and colleagues measured 25-hydrovitamin D3 levels (25(OH) D3) in 410 patients 2 weeks prior to undergoing renal transplantation. Of the 410 patients, 171 (41.7%) were vitamin D deficient (25(OH)D3 level below 10 ng/mL).
During a median follow- up of 7.3 years, the UTI incidence was significantly higher in the vitamin D deficient than non-deficient patients (30.4% vs. 16.7%), the investigators reported in Medicine (2015;94:e594). Vitamin D deficiency was independently associated with a significant 81% increased risk of UTI.