December 18, 2015
Surgery Offers Prostate Cancer Patients Better Survival Odds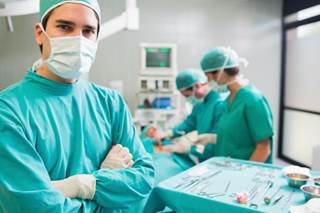 Men with clinically-localized tumors are more likely to die from any cause or from PCa if they undergo radiotherapy rather than radical prostatectomy, study finds.
Radiotherapy for clinically-localized prostate cancer (PCa) is associated with an increased risk of overall and PCa-specific mortality compared with radical prostatectomy, according to a new systematic review and meta-analysis.
A team led by Robert K. Nam, MD, of Sunnybrook Health Sciences Centre in Toronto and the University of Toronto analyzed 19 studies considered to be of low to moderate risk of bias, pooling data on up to 118,830 patients. The adjusted hazard ratio (aHR) for radiotherapy versus surgery was 1.63 for overall mortality—the study's primary outcome of interest—and 2.0 for PCa-specific mortality, Dr. Nam and his colleagues reported online ahead of print in European Urology. "Subgroup analyses by risk group, radiation regimen, time period, and follow-up length did not alter the direction of results," the authors noted.
For example, among patients with low-, intermediate-, and high-risk PCa, the aHR for those treated with radiotherapy versus surgery was 1.47, 1.50, and 1.88, respectively, for overall mortality, and 1.70, 1.80, 1.83, respectively, for PCa-specific mortality.
Dr. Nam's group stated that, to their knowledge, their study represents the most comprehensive and up-to-date review of the literature comparing survival outcomes associated with radiotherapy and surgery.
To compare overall mortality associated with radiotherapy and surgery, the researchers analyzed data from 10 studies that included a total of 95,791 patients. With respect to PCa-specific mortality, they analyzed data from 15 studies that included a total of 118,830 patients.
"While the studies used have a potential for bias due to their observational design, we demonstrated consistently higher mortality for patients treated with radiotherapy rather than surgery," the authors concluded.