November 04, 2014
New Tool Can Test Prostate Cancer Drug Potential
the Renal and Urology News take:
A novel tool is being developed to test the potential for prostate cancer drugs, according to a new study published in Chemical Communications.
Scientists from the University of Bath, funded by Prostate Cancer UK and with the support of the Movember Foundation, have been studying the AMACR (P504S) enzyme, which has been previously identified as a possible target for cancer drugs, as blocking it prevents cancerous cells from growing. The enzyme is overactive in nearly all instances of prostate cancer, as well as a few other types of cancer.
"Our research has found that AMACR is also able to act on another chemically related molecule in an irreversible reaction that releases a fluoride molecule which can be measured easily," said Matthew Lloyd, MD, one of the authors of the study.
By measuring the new reaction, the researchers are able to measure the effectiveness of potential drug candidates more accurately, allowing for faster development of new prostate cancer drug treatments.
The team has already patented the novel technology and are hoping to broach the pharmaceutical industry with their findings.
'Movember' is a campaign that encourages men to grow out their moustaches for the month of November in order to raise awareness of prostate cancer.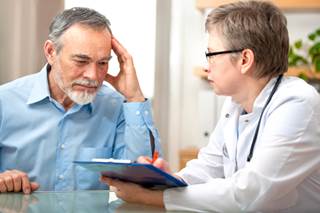 AMACR enzyme is being developed to test the potential for prostate cancer drugs.
Many men are growing moustaches this month as part of Movember to raise awareness and funds for improving men's health, but do you know where this money goes? Scientists at Bath, funded by Prostate Cancer UK with support from the Movember Foundation, have developed an innovative tool to test potential drugs for prostate cancer.
The researchers hope this technique will help speed up the development of new treatments for the disease, the most common form of cancer in men in the UK. The team are studying the enzyme AMACR (also known as P504S), which is overactive in almost all prostate cancers, some bowel cancers and several other types of cancer and is thought to fuel the growth of the disease by boosting the cell's energy supply.
Sign up for free e-Newsletters
NEPHROLOGY & UROLOGY NEWS