December 26, 2014
Exercise May Help Prostate Cancer Survival
the Renal and Urology News take:
Men with prostate cancer who are physically active enjoy a lower death rate, according to a new study published online in Cancer Epidemiology, Biomarkers & Prevention.
Higher levels of physical activity were linked with reduced rates of overall and prostate cancer–specific mortality.
According to the Swedish researchers, lower mortality rates were experienced by men performing 5 or more hours of activity each day, including walking or bicycling for 20 minutes or more each day, performing household work daily for an hour plus, and exercising for an hour plus each week. For prostate cancer-specific mortality, significantly lower mortality rates were seen among men walking, bicycling, and exercising at the levels mentioned above.
For the study, investigators examined data from 4,623 men diagnosed with localized prostate cancer from 1997–2002. After a follow-up of 10 or more years, 194 men died from prostate cancer and 561 from any cause.
The study strengthens previous research on the benefits of exercise for cancer in general, and prostate cancer, more specifically.
Recommending exercise to prostate cancer patients and encouraging them to stay active is relatively easy and may lead to better health outcomes.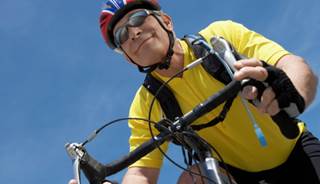 Exercise helps prostate cancer survival
Yet another study is confirming the benefits of physical activity following the diagnosis of cancer, this time of prostate cancer, on all-cause and prostate-specific survival, Swedish researchers report.
The study was published online December 19 in Cancer Epidemiology, Biomarkers & Prevention.
"Being physically active has many positive effects on health, and now we can see that it has specific effects on survival among prostate cancer patients as well," Stephanie Bonn, MSc, Karolinska Institute, Stockholm, Sweden, told Medscape Medical News.
"Since a man's physical activity level…
This article originally appeared
here.
Sign up for free e-Newsletters
NEPHROLOGY & UROLOGY NEWS