April 21, 2015
Clinician-Referred Vigorous Exercise Good for Prostate Cancer Patients
This article originally appeared
here.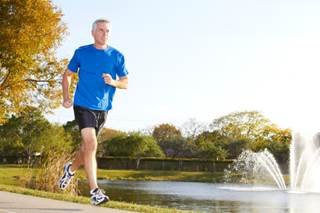 Clinician referral to a 12-week program ups vigorous exercise levels and improves mental health.
(HealthDay News) -- For men with prostate cancer, participation in a clinician-referred exercise program has a positive impact on mental health, according to a study published online in Cancer.
Patricia M. Livingston, Ph.D., from Deakin University in Burwood, Australia, and colleagues conducted a multicenter cluster randomized controlled trial involving 15 clinicians. About half of the clinicians were randomized to refer eligible participants with prostate cancer to a 12-week exercise program (2 supervised gym sessions and 1 home-based session; 54 patients) and the other half were randomized to follow usual care (93 patients).
The researchers identified a significant intervention effect for vigorous-intensity exercise (effect size: Cohen's d, 0.46; P = 0.01), but not for combined moderate and vigorous exercise levels (effect size: d, 0.08: P = 0.48).
Meeting exercise guidelines (≥150 minutes/week) was also associated with significant intervention effects (odds ratio, 3.9); positive intervention effects were seen for cognitive functioning (effect size: d, 0.34; P = 0.06) and depression symptoms (effect size: d −0.35; P = 0.06) in the intervention group. 80% of participants reported that their decision to participate in the exercise program was influenced by the clinician's referral.
"Further research is needed to determine the sustainability of the exercise program and its generalizability to other cancer populations," the authors write.
Source