July 02, 2015
Low Use of Active Surveillance of Prostate Cancer in U.S.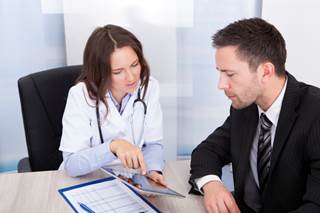 Researchers find 12% or fewer U.S. men with low-risk prostate cancer opt for active surveillance.
(HealthDay News) -- A majority of U.S. men with low-risk prostate cancer who are eligible for active surveillance still undergo treatment, according to a new report published online in JAMA Internal Medicine.
The authors of the report examined a national database that included 70% of cancer cases in the country. Of 189,768 men diagnosed with prostate cancer, between 10.7 and 39.8% would be considered low-risk enough to be eligible for a watch-and-wait approach. Of those men, just 6.5 to 12.1% received active surveillance, the study revealed.
Older men -- those over 60 -- were more likely to have active surveillance. Men without insurance were also more likely to be receiving the approach. The researchers found that active surveillance was most common on the West Coast and in the Northeast. The states with the lowest levels -- under 5% -- were Alabama, Mississippi, Tennessee, and Kentucky.
The study data was collected in 2010 and 2011, and much has changed since that time in regard to the popularity of active surveillance, the researchers noted. Active surveillance is "gaining acceptance among urologists and patients," study coauthor Hui Zhu, M.D., Sc.D., chief of urology at the Louis Stokes Cleveland VA Medical Center, told HealthDay. "Age-appropriate men should discuss the risks and benefits of screening with their physicians, and men with newly diagnosed localized prostate cancer should ask their physicians whether active surveillance is a good option for them."
Source