September 06, 2012
Buying vs. Leasing Expensive Technology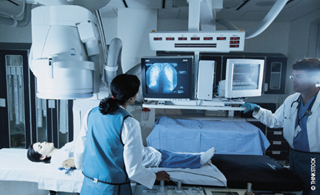 Short-term leases are advised for sophisticated imaging equipment, like the MRI shown here.
Office and medical equipment can be one of the major expenses in your practice and how you manage it can greatly affect your cash flow. One of the biggest questions for many is whether to bite the bullet and purchase medical and office equipment or to lease it.
The answer to that is different for each practice and depends upon a wide variety of considerations including cash flow, frequency of use, and the current cost of borrowing money.
There may be no right or wrong way to deal with your equipment needs, but there are a host of questions to mull over when figuring out what would work best for your office.


Should you lease?
When deciding whether to purchase or lease equipment, you should not make a snap decision, said Judy Aburmishan, the partner in charge of healthcare industry services with FGMK, LLC, a Chicago-based accounting firm. Initially, you should consider both options.
Some of the main things to factor into the equation when thinking about leasing equipment include:
How long is the lease?
Is the lease long enough to cover the life of the equipment or the time you need it?
What will be the cost if you want to purchase the equipment at the conclusion of the lease?
Short-term leases would likely be best for high-cost technology that changes frequently. "Imaging and lab equipment have relatively short technology life spans, usually fewer than three years," said David Doane, Director of Reimbursement for Dallas Nephrology Associates. "If you have it for too long, you can live through one to two generations of equipment."
One downside of these leases is that they are often more expensive than lease-to-own contracts. The leasing company must build profit into the lease and make up for damage to the equipment, so the payments will likely be higher.
A benefit of leasing is that you don't have the responsibility of owning the equipment. If it breaks, it's not your problem. If an image tube goes out, you don't have to replace it. If you are looking at equipment that has to be serviced frequently, like electronic monitoring equipment, it might be better to lease.
"Almost every time you lease, it will include a service contract for the length of the lease, so you have a fixed cost for equipment," Mr. Doane said.


Lease-to-own contracts
A lease-to-own contract is better for expensive equipment that has a longer lifespan that you cannot or do not want to purchase outright. With this, you lease the equipment for a period of time without paying anything upfront. At the end of the lease, you pay a fixed amount of money to purchase the equipment.
This strategy can be beneficial in that it works in the same way a loan does, Ms. Aburmishan noted. For tax purposes, you can deduct the full cost of the equipment with this lease, even though you haven't fully paid for it. With a short-term lease, you deduct payments the way you would for immediate expenses like rent.


Daily or pay-per-clink rentals
Other options for very expensive technology include daily or pay-per-click rentals. If you don't frequently use a sophisticated piece of equipment—like a magnetic resonance imaging scanner or a laser—you can just rent as needed.
"A per-day basis will be more expensive, but if you decide you can't keep the equipment busy five days a week, if would be more cost efficient overall," Ms. Aburmishan said.
Finally, make sure it is worth your while to be providing a service. If you find these options cost more than what the equipment is worth, it makes sense to outsource.


Making the decision to buy
An obvious impetus to buy is need and frequency of use, Mr. Doane observed. "But the purchasing threshold will be different in every practice—based on solvency." If you want to buy, first look at the interest rates to make sure they are going to be better than what you would pay for a lease-to-own plan. The interest rates are often comparative right now, so that getting a loan from a bank "is like free money," Mr. Doane noted.
Next, you must determine how quickly the technology will be obsolete; if it's soon, a short-term lease might be your best option.
If you do choose to buy, a main consideration is to decide whether you want to expend your capital or take out a loan. Ms. Aburmishan recommends keeping your money out of the practice when possible.
"I generally advise that you have someone else pay for practice-related equipment," she said. "That way, you are not putting personal funds into the practice, where they could would subject to a lien in a malpractice suit."
How you get rid of antiquated equipment must also be a factor. If you know you will need the machinery beyond a certain lease period, it is best to purchase. When figuring out the value of buying, it's good to think of what it might resell for when you are finished with it.


Weighing your choice
Individual practices have a host of considerations for leasing-versus-buying equipment, but the decision will be different for every practice. Mr. Doane said he knows of some groups that lease all equipment in bundle packages. Physicians in private practice should always consult with their financial officer before making major purchases, but the final say should be with the physician owners. "Let the people who are spending the money make the decisions," he said.
Finally, don't let your practice get in a rut because you made the wrong initial choice. Just because you leased something last year, doesn't mean you shouldn't purchase it or change the contract the following year.
"Make sure to take a good look at what your new investment is going to do for you—and re-evaluate your circumstances when it's time to renew a lease," Mr. Doane said.