April 24, 2014
Anemia Management Changing in Peritoneal Dialysis Patients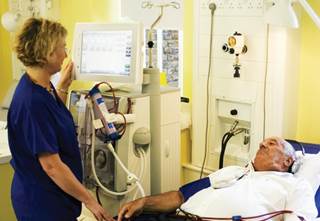 Study reveals a decline in the use of ESAs and an increase in the use of iron.
Administration of erythropoiesis-stimulating agents to patients on peritoneal dialysis (PD) has been declining, according to study findings presented at the National Kidney Foundation's 2014 Spring Clinical Meetings in Las Vegas.
Epoetin alfa (EPO) use decreased from 68% of patients in the first quarter of 2009 to 64% in the fourth quarter of 2011, Yi Peng, MS, of the Chronic Disease Research Group, Minneapolis Medical Research Foundation, i0n Minneapolis, Minn., and colleagues reported. Darbepoetin (DPO) use decreased from 9.2% to 6.2% of patients during the same period.
Mean EPO dose per 30 outpatient days decreased 20% from 44,567 to 35,623 units; the mean DPO dose decreased 27% from 176 to 128 mcg.
Meanwhile, iron use increased from 21% to 36% of patients. From the first quarter of 2009 to the fourth quarter of 2010, mean iron dose per 30 outpatient days increased from 126 to 144 mg, which then declined to 130 mg by the fourth quarter of 2011. Mean hemoglobin levels decreased from 11.3 to 10.6 g/dL, and transfusions increased from 5.4% to 6.6% of patients.