August 28, 2014
Depression in Cancer Patients Often Untreated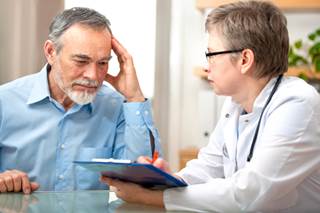 Studies show integrated program effective for depression in patients with cancer.
Patients with cancer and depression frequently do not receive effective treatment; however, an integrated program is effective in patients with cancer, according to three studies published in The Lancet Psychiatry, The Lancet, and The Lancet Oncology.
Jane Walker, PhD, from the University of Oxford in the United Kingdom, and colleagues analyzed data from 21,151 patients with breast, lung, colorectal, genitourinary, or gynecological cancer to examine the prevalence of depression. The researchers found that the prevalence of major depression varied from 13.1% in lung cancer to 5.6% in genitourinary cancer. Seventy-three percent of patients with depression were not receiving potentially effective treatment.
Michael Sharpe, MD, also from the University of Oxford, and colleagues examined the effectiveness of an integrated treatment program for major depression in 500 patients with cancer. Participants were randomized to depression care (a multicomponent collaborative care treatment; 253 patients) or usual care (247 patients).
The researchers found that 62% of those in the depression care group and 17% in the usual care group responded to therapy. In a third study, Dr. Walker and colleagues found that the integrated depression care program correlated with significantly lower average depression severity for patients with lung cancer, compared to usual care.
"Our findings suggest that major depression can be treated effectively in patients with a poor-prognosis cancer; integrated depression care for people with lung cancer was substantially more efficacious than was usual care," Dr. Walker's team wrote.