April 28, 2015
Should We Always Treat Edema?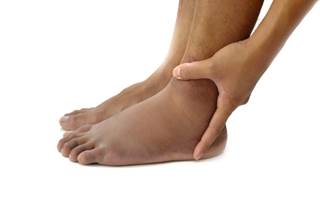 Should Clinicians Always Treat Edema?
You can't be a clinician and not have any patient with swollen ankles. We often manage patients' ankle edema ourselves by restricting salt and giving diuretics, or we send the patient to other specialists who can do it for us. We feel good about it, especially when patients report that the swelling has improved. But do we really know why we diurese patients?
Many types of edematous states are associated with symptoms. Pulmonary edema may lead to respiratory distress. Ascites and increasing trunk girth result in discomfort, sensation of fullness, and breathing difficulties. Anasarca in nephrotic syndrome can limit physical activities. When we see mild ankle edema, we often start with dietary salt and fluid restriction, and if this doesn't work we prescribe diuretics, starting with thiazides followed by more potent loop diuretics.
In extreme circumstances with worsening pulmonary edema and imminent intubation and mechanical ventilation, we may consider ultrafiltration via dialysis or hemodiafiltration. In some countries, ambulatory ultrafiltration centers are available to edematous outpatients so that fluid can be conveniently removed without hospital admission. But does removing fluid have any impact on the deleterious effects of the underlying disease or its progression. Most clinical trials involving heart failure have failed to show significant benefit of diuresis or ultrafiltration.
Is fluid retention really harmful? A 2009 paper in Circulation detailing a study of 34,107 hemodialysis (HD) patients (conducted by a team I led) showed that the greater the fluid retention between 2 consecutive dialysis treatment days, the worse the patient mortality. But I would argue that the increased mortality also could be due to a harmful effect of the removal of greater fluid volumes by ultrafiltration. Although there are such controversies related to severe types of fluid overload in heart failure and HD patients, I am still not sure why I even need to treat lower extremity edema.
Oral diuretics can cause harm such as hypokalemia and muscle weakness, hyponatremia and altered mental state, deep vein thrombosis and pulmonary embolism, and many other direct and indirect side effects of these pharmacologic agents. Even restricted salt intake to less than 2 grams per day is associated with worse outcome according to recent findings. So where is the benefit of diuresis?
We physicians often feel obsessed to get the fluid out. There is little doubt that a swollen ankle doesn't look good esthetically. With worsening ankle edema shoes feel tight especially as the day progresses. Most of my patients feel happier when I help them to have thinner ankles and nicer legs, and they give me better reviews, so I can maintain my high ranking among Top Physicians, Best Doctors, and Best Physicians. That should be good enough reason to diurese.
Kam Kalantar-Zadeh, MD, MPH, PhD Chief, Division of Nephrology & Hypertension Professor of Medicine, Pediatrics and Public Health University of California Irvine School of Medicine