November 05, 2015
Ferric Citrate Reduces Hyperphosphate, EPO Requirement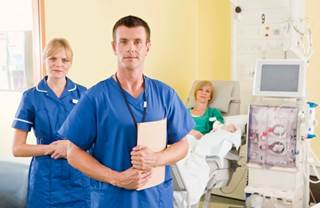 Significant decreases in serum phosphate and erythropoietin dose in hemodialysis patients observed after 6 months of treatment.
SAN DIEGO—Ferric citrate is useful for treating hyperphosphatemia and renal anemia, Japanese researchers concluded in a study presented at Kidney Week.
In a study of 38 hemodialysis patients with hyperphosphatemia and anemia treated with ferric citrate for 6 months, Hirotake Kasuga, MD, PhD, of Nagoya Kyoritsu Hospital in Nagoya, Japan, and colleagues found that the drug significantly decreased serum phosphate levels and weekly erythropoietin (EPO) dose. Mean phosphate levels decreased from 7.05 mg/dL to 6.19, 6.14, and 6.01 mg/dL at 1, 3, and 6 months, respectively. Calcium, hemoglobin, and ferritin levels did not differ significantly at those same time points. After 6 weeks of therapy, transferrin saturation increased significantly from baseline (26.7% vs. 20%) and weekly EPO does decreased significantly from baseline (2,750 vs. 6,801 IU/week).