July 30, 2015
Blood Pressure Variability Linked to Heart Disease, Early Death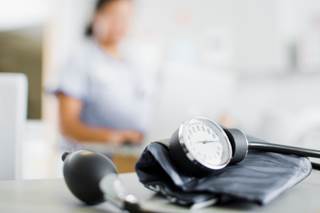 Wide fluctuations between doctor visits tied to raised odds of heart disease, early death.
(HealthDay News) -- Wide blood pressure fluctuations may signal an increased risk of coronary heart disease and early death, according to research published online in the Annals of Internal Medicine.
Paul Muntner, Ph.D., a professor of epidemiology at the University of Alabama School of Public Health at Birmingham, and colleagues analyzed data from a major trial involving the use of antihypertensives and lipid-lowering medications. The trial involved nearly 25,814 participants. Blood pressure readings were taken at 5, 6, or 7 visits which were conducted between 6 to 28 months after the start of the study.
Compared to patients whose blood pressure remained stable, the researchers found that an average blood pressure variation of about 15 mm Hg was linked to a 30% raised risk of nonfatal myocardial infarction or fatal coronary heart disease, and a 46% raised risk of stroke. In addition, the risk for all-cause mortality was increased by 58%.
These variations may be a sign of increasing damage to the arteries, particularly stiffening, Muntner told HealthDay.
Source