May 13, 2014
Post-Discharge Visits Cut Hemodialysis Readmission Rates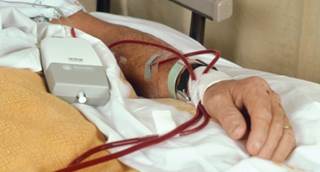 More frequent visits following discharge expected to reduce re-hospitalizations.
For patients on hemodialysis, more frequent physician visits following hospitalization are associated with reductions in re-hospitalization, according to a study published online ahead of print in the Journal of the American Society of Nephrology.
Kevin F. Erickson, MD, from the Stanford University School of Medicine in Palo Alto, Calif., and colleagues used a quasi-experimental approach to assess the correlation between dialysis provider visit frequency following hospital discharge and the probability of re-hospitalization. They also examined whether additional provider visits to patients in the month following hospitalization could prevent hospitalizations.
The researchers found that 1 additional provider visit in the month following hospital discharge correlated with a 3.5% decrease in the absolute probability of 30-day readmissions in the main cohort (26,613 individuals). In an additional four cohorts, the reduction in 30-day readmission varied from 0.5% to 4.9%, depending on population density around facilities, facility profit status, and eligibility for Medicare.
The effort to visit patients one extra time in the month following discharge from hospital could result in 31,370 fewer hospitalizations per year, with annual savings of $240 million at current Medicare reimbursement rates.
"In conclusion, more frequent physician visits following hospital discharge are estimated to reduce re-hospitalizations in patients on hemodialysis," the authors wrote. "Incentives for closer outpatient monitoring following hospital discharge could lead to substantial cost savings."