October 16, 2014
Home Dialysis On the Rise Despite High Cost
the Renal and Urology News take:
Although home dialysis six times a week is associated with better outcomes in patients with poor kidney function compared to those who dialyze three times a week at outpatient centers, experts say that issues of cost to providers have prevented broader application.
"[Patients] feel better at home than they do with in-center dialysis," said Leslie Spry, MD, FACP, spokesman for the National Kidney Foundation and medical director at the Dialysis Center of Lincoln in Nebraska. Dr. Spry said that in-center dialysis patients tend to feel incapacitated after treatment, while home dialysis users typically recover in about 30 minutes.
But most patients simply do not have access to home-based services because of a lack of insurance or "sufficient socioeconomic resources", according to Rajnish Mehrotra, MD, of the University of Washington.
In addition to the "energy barrier" of training patients to use a dialysis machine, home dialysis is more costly, requiring individual nursing sessions for weeks compared to in-center technicians who can supervise multiple patients at a time.
However, the use of home dialysis is growing. Providers such as Fresenius Medical and DaVita have pushed to increase the use of home treatment and are apt to bear the costs because they will reduce long-term costs of treatment.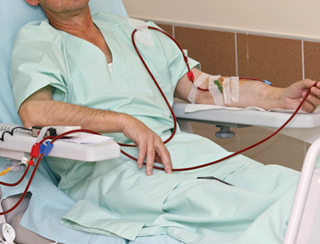 The Challenge of Dialysis at the End of Life
Robert Richardson, 46, discovered eight years ago that his kidney function had deteriorated to the point where he needed dialysis. It resulted from glomeril nephritis, a chronic condition he's had since age 5. "The doctors caught something on a physical, and they had me see a nephrologist," Richardson said.
"The nephrologist told me my kidney function was down around 15%." By fall of that year, Richardson, newly married and working as a teacher and a tour guide in Savannah, Ga., was performing peritoneal dialysis several times a day at home. The procedure removes toxins from his blood by filling his abdominal cavity with a special solution. After three-and-a-half years using that treatment, Richardson said it left him feeling tired. He switched to home hemodialysis, in which each night he connects to a machine that filters his blood while he sleeps.
Newsletter Signup
NEPHROLOGY & UROLOGY NEWS