September 15, 2015
Can Acupuncture Help Erectile Dysfunction?
the Renal and Urology News take:
Some men with erectile dysfunction (ED) fail to respond to conventional treatments or prefer not to use them. So the prospect of alternative therapies is an attractive one.
Is acupuncture effective for ED? It's debatable. Acupuncture can help manage certain pain conditions, according to the National Institutes of Health, but evidence about its value for other health issues is uncertain. Previous research on acupuncture for ED has not drawn convincing conclusions due in part to a lack of randomized controlled trials.
Researchers from South Korea and the United Kingdom recently searched for acupuncture studies from around the world. After careful review, only 4 of 80 studies were deemed acceptable. Two of these studies had a total of only 45 men, and less than ideal methodology, CNN reported.
Of the other 2 randomized clinical trials, 1 found that acupuncture beat placebo treatment, but the other found no benefit. All the men in both trials had psychological ED (versus organic), which affects only 15% of American men with the sexual dysfunction.
In acupuncture, the practitioner inserts hair-thin needles into 361 sites along the body's "meridians." Choosing the correct sites and inserting the needle at the proper angle and to the right depth is paramount. The acupuncturist gently inserts the needle until the patient senses warmth, tingling, or numbness.
By stimulating specific acupoints, the acupuncturist hopes to redirect the patient's Qi and restore balance. Western scientists are apt to believe that the needles stimulate the release of pain-relieving endorphins and/or neurotransmitters.
It remains important to reassess the efficacy and safety of acupuncture for ED. For patients who want to try it, acupuncture is now widely available, but it should only be done by a licensed, certified acupuncturist.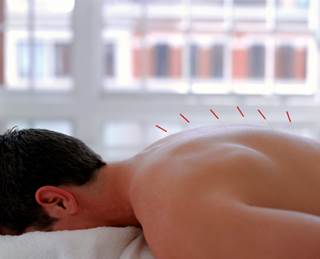 It remains important to assess the efficacy and safety of acupuncture for ED.
When sildenafil (Viagra) was introduced fifteen years ago, it revolutionized the treatment of male sexual dysfunction. For one thing, this important but intensely personal issue came out from under the covers. Men began to approach sexual woes as medical problems, not personal failings. For another, the problem got a new and more accurate name: Erectile dysfunction (ED) replaced impotence, a term that comes from the Latin for "loss of power." Above all, sildenafil and its rivals, vardenafil (Levitra, Staxyn), tadalafil (Cialis) and avanafil (Stendra), provide effective and safe treatment for about 70% of men with ED...
Renal and Urology News Articles
NEPHROLOGY & UROLOGY NEWS