January 14, 2016
Trends in Insulin Use, Glycemic Control Explored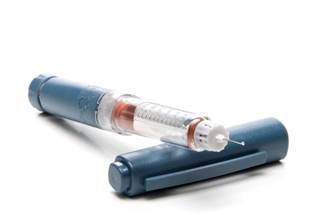 Proportion of patients currently on any insulin stable from 1988-1994 to 1999-2012.
(HealthDay News) -- Since 1988, the proportion of patients with diabetes currently on any insulin has remained stable, according to research published online in Diabetes Care.
Elizabeth Selvin, PhD, from the Johns Hopkins Bloomberg School of Public Health in Baltimore, and colleagues examined national trends in glycemic control by insulin and oral diabetes medication use. Data were included for 4,947 adult participants with diagnosed diabetes in the National Health and Nutrition Examination Survey for the 1988 to 1994 and 1999 to 2012 cycles.
The researchers found that the proportion of patients with diabetes currently on insulin was relatively stable (29.1% in 2005 to 2012; 30.3% in 1988 to 1994; and 24.8% in 1999 to 2004). Diabetes duration was a strong independent determinant of insulin use. During the study period, the duration of diabetes increased significantly for those on any insulin (12.7 to 17.3 years; P < 0.001), compared with diabetes duration for those on oral medication only (7.0 to 8.5 years; P = 0.36). Among patients with any insulin use, 31.4% had an hemoglobin A1c (HbA1c) <7%, while 61.7% had HbA1c <8% in 2005 to 2012.
"Our results suggest improvements are needed in patient and professional education on insulin use, new insulin formulations and delivery technology, and/or systems of care to improve glycemic control in patients receiving insulin," the authors write.
Source