September 11, 2014
Statins Provide Microvascular Benefit for Diabetics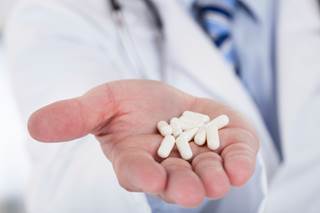 Statin users with diabetes at lower risk of neuropathy, retinopathy, gangrene.
Statins may help prevent microvascular complications associated with diabetes, according to study findings published online ahead of print in The Lancet Diabetes & Endocrinology.
The study examined data from Danish clinical registries on more than 60,000 patients aged 40 or older and who were diagnosed with diabetes from January 1996 to December 2009. The researchers compared the outcomes of more than 15,500 patients who used statins with those of more than 47,000 patients who were not taking statins.
After a median follow-up of 2.7 years, patients who used statins were 34% less likely to be diagnosed with diabetic neuropathy and 40% less likely to develop diabetic retinopathy. These patients also had a 12% lower risk of gangrene of the foot than those who did not take statins. The risk for diabetic nephropathy was not significantly different between the patients who took statins and those who did not.
"Since high levels of blood glucose, the hallmark of diabetes, are linked with microvascular disease, and since statins are suspected of raising glucose levels, we tested the hypothesis that individuals taking a statin before a diagnosis of diabetes might be at increased risk of developing microvascular complications," study author Borge Nordestgaard, MD, of Copenhagen University Hospital, said in a news release. "Surprisingly, the results showed that statins decreased, rather than increased, risk of these complications."